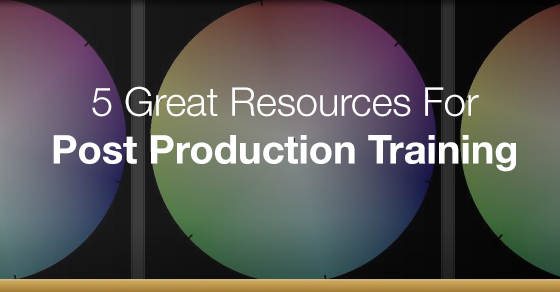 5 Great Resources for Post Production Training
If you really want to sharpen your video editing and post production skills, try checking out these 5 great places to invest in your continuing education!
You have to stay up to date with you skills if you want to stay relevant and keep your job in this industry. One of the best ways to do so is to take continuing education classes and workshops. There are a ton out there, but here are a few of my favorite resources for post production training.
These all cost money, but in these cases you get what you pay for. If you're lucky enough to work at a place that offers to contribute to your continuing education, you'd be crazy not to check these out. Likewise, if you're self-employed, these will still be fantastic investments in your career.
I've tried to stay away from software based training/certification. There's enough of that readily available. Being successful at your craft (not an application) is what ultimately will make you successful in this industry. That's what you should be invested in.
I've done classes with the ICA before, and you definitely get more than your money's worth. Great training on not just software, but technique, the ICA classes are fantastic and taught by some of the best colorists out there.
My teacher was colorist Warren Eagles, and I'm still in awe of how much insanely useful information he packed into each lesson. They offer courses around the world in cities like Los Angeles, New York, London, Singapore, Dubai, Sydney, and others.
Colorist Patrick Inhofer has a great online training course where you can grade a short film with direction and vision from the film's director, see how Patrick graded it, and get feedback on your grade of the film from Patrick. It's a great system to check out.
Another color grading resource, this site's content is produced by Patrick Inhofer from Tao of Color, along with two other fantastic colorists: Robbie Carman and Dan Moran. This subscription site is basically a structured blog with regularly and frequently updated articles filled with fantastic color grading information. As they put it, it's "8 Miles Wide, 3 Feet Deep" and covers a wide range of topics.
This is a brand new site that's put on by a great group of motion graphics pros. It's "an online motion graphics training program, with an emphasis on career development."
The course is broken up into three classes, with a mentor assigned to you for direct feedback. A focus on planning, technique, and story sets it apart from typical software-based training. They even help you with job placement upon completion of the course!
And have I mentioned yet that the mentor list is impressive? I know several of these guys and know of most of the others. You want to learn from them. Trust me.
Yes, this one has a lot of "software tutorials" that I said I would be avoiding, but if you search, it also has a surprising number of technique tutorials as well.
The added bonus of Lynda.com is the massive library of content available. Want to learn something totally new? You can do that. Want to stay up to date with techniques and tools? You can do that too. It's about as comprehensive as it gets for online training.
I hope this list inspires you to get out there, invest in your career and keep learning! If you have suggestions for other great post production resources, please share them in the comments below!