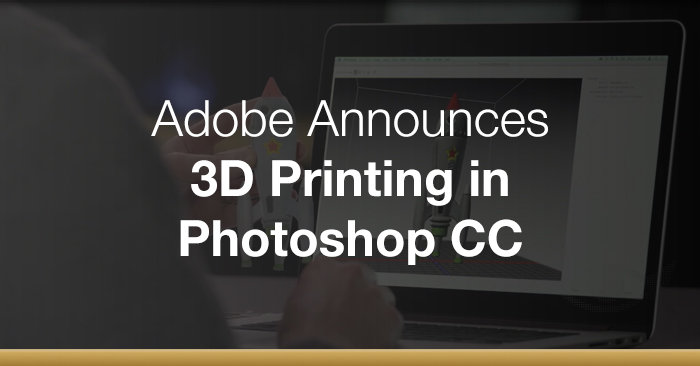 Adobe Announces 3D Printing in Photoshop CC
Adobe's latest update introduces 3D printing to Photoshop CC.
Adobe is embracing the future with their latest update to Adobe Photoshop CC. They've announced that users will now be able to print in 3D straight from Adobe Photoshop CC. Photoshop 3D printing will be compatible with most desktop 3D printers including MakerBot Replicator and 3D Systems Cube.
Users can now upload and print on a variety of surfaces including brass, bronze, sterling silver, full color sandstone, plastic, ceramics and much more. Adobe has also announced a partnership with Shapeway, an online custom 3D printing and shopping store. With the update users can now send orders to Shapeway straight from Photoshop.
Peter Weijmarshausen CEO and Co-Founder of Shapeway stated that this partnership will make it "easy for designers and creatives to turn ideas into reality".  Adobe has also made it possible for users to upload 3D designs to Adobe's creative inspiration platform, Behance.
The update is available for immediate download for Adobe Creative Cloud subscribers. If you are not subscribed to the Creative Cloud, memberships start at 9.99 a month with a one year subscription. Adobe also offers special rates for students and teachers.
The update is likely to be a catalyst for the normalization of 3D printers. Our condolences go out to all the whittlers of the world.