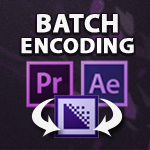 Batch Encoding with Adobe Media Encoder
Use Adobe Media Encoder to render your videos from Premiere Pro or After Effects in the background while you work – a major timesaver!

Adobe Media Encoder is a powerful (and somewhat overlooked) application for encoding your video projects into a variety of codecs and file formats.  Encoder integrates with Adobe's other pro video apps, Premiere & After Effects.  Media Encoder allows for background encoding, so you can continue to edit while it's processing – faster workflow.  To boot, encoder has a variety of helpful presets to simply the encoding process (you can also create your own).
In this post, we'll take a look at how to get your projects from Premiere Pro and After Effects over to Media Encoder.  Encode your files in batches and in multiple file formats in one swoop.  In addition, you'll discover how to create encoding "watch folders" on your computer – further streamlining the encoding process!
Premiere Pro to Adobe Media Encoder
To send your Premiere Pro sequence to Adobe Media Encoder, first select the Sequence you want to Export.  Then, select File > Export Media.
This opens an "Export Settings' box.
Pick a Format.  I picked H.264 as I am encoding for the web.  Then, pick a Preset (there are presets for Vimeo & YouTube).
If you click "Export" you are using Premiere Pro to export, which ties up Premiere Pro.
Instead, use Adobe Media Encoder by clicking the "Queue" button.
This launches Adobe Media Encoder.
Your Sequence from Premiere Pro is in the Adobe Media Encoder queue and ready to be encoded.
You can also export multiple versions of the same Sequence.  In the Media Encoder Preset Browser right click on a Preset and select "Apply to Queue"
Now, click the green play button to start the encode (or press Return).
After Effects to Adobe Media Encoder
Similarly, Adobe makes it quite easy to get your After Effects compositions into Media Encoder.  In Adobe Media Encoder select "Add After Effects Composition" from the File Menu.
Navigate to the Project and then choose the Composition (some projects may have multiple compositions).
Note: You can also add Premiere Pro Sequences in the same way if you prefer this method over launching Adobe Media Encoder from within Premiere Pro.
Creating Watch Folders
A Watch Folder is a folder on your computer that will automatically start encoding files that are dropped into it.  Through Media Encoder you can setup a Watch Folder anywhere on your hard drive.  Apple Compressor has a similar feature called a Droplet.
In Adobe Media Encoder the Watch Folder panel is on the bottom-right. Click the + button to create a Watch Folder. I created one called Watch Me on the Desktop.  In Media Encoder you specify the encoding properties for that particular Watch Folder (what file formats, codecs, etc you want new files to be encoded to).
Often I render a full quality movie in Premiere Pro or After Effects and then drop that file on the Watch Folder to encode it in for Vimeo, YouTube and DVD.  This is especially useful if you're often delivering or creating the same file types, or if you create a set of master files when you archive your video projects (for instance, a web version, a full res version, a DVD version, an iPad version, etc).
What encoding application is essential to your workflow?
Share your thoughts and experiences in the comments.