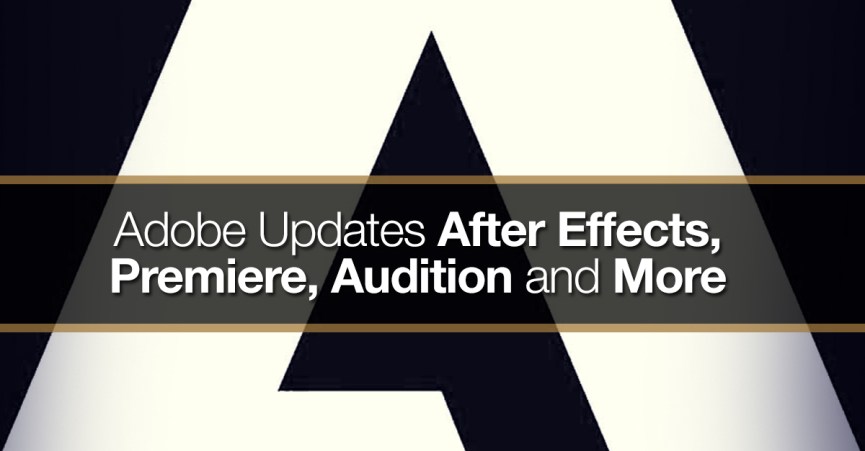 Adobe Updates After Effects, Premiere Pro and More
Interface and usability are at the center of Adobe's latest software update.
Big news has come from IBC 2014 in Amsterdam. Adobe has unveiled updates to most of their software library. In the past, product announcements may only be labeled 'bittersweet' if you couldn't afford to continually be purchasing new software. But with Creative Cloud you now get Adobe software as soon as it is released.
As part of this latest software release Adobe will now be catering to those with hiDPI displays. This applies to both Windows and Mac users and should result in a much clearer interface. In addition to retina support, Adobe will begin releasing updates for gesture based controls.
After Effects Update

Photo via Adobe

Since it's release in 2013, it's been great to have native Cinema 4D integration with After Effects. Adobe plans to add a few of the newer R16 features into Cinema4D Lite 2.0 but no specifics have been revealed from Maxon yet. If you want more info about the R16 release check out our '14 R16 Features you Should Know About' post.
New AE updates include:
Copy with Relative Property Links command
Color Management for Dynamic Link
Native GoPro CineForm codecs
Improved Adobe Media Encoder watch folders
Various bug fixes
Premiere Pro Updates

Photo via Adobe
 Search Bins are bins that automatically populated with clips, audio and like based on metadata search.
Advanced Timeline Search to find clips based on name or comments.
New tools to make it easier to work across multiple projects at once or bring assets/edits from one to another including the ability to open multiple Media Browser panels simultaneously and the Source Monitor Timeline View that allows editors to preview sequences from other projects (and take elements from them)
Consolidate and Transcode converts sequences or an entire project into a single codec, while retaining the ability to make edit adjustments later, and leaving original projects untouched.
Support for the GoPro CineForm codec and the AJA RAW format from the AJA CION camera.
GPU-based debayering for Phantom Cine and Canon RAW footage.
A free-draw polygon Pen tool and on-screen Bezier adjustments – with feathering and expansion – for masking and tracking
Audition Updates

Photo via Adobe
Support for RED, XDCAM, MXF
Target Dynamic Range for leveling speech
SpeedGrade Updates

Photo via Adobe
Looks improvement including hover-based previews
Curves adjustments
Better audio support
Prelude Updates

Photo via Adobe
Keyboard shortcuts
Add in/out points and transitions
Pricing and Availability
If you are a Creative Cloud subscriber, all of these updates are included in your subscription. The new updates are rumored to be released in November.
Are any of these features exciting to you?
Let us know in the comments below.