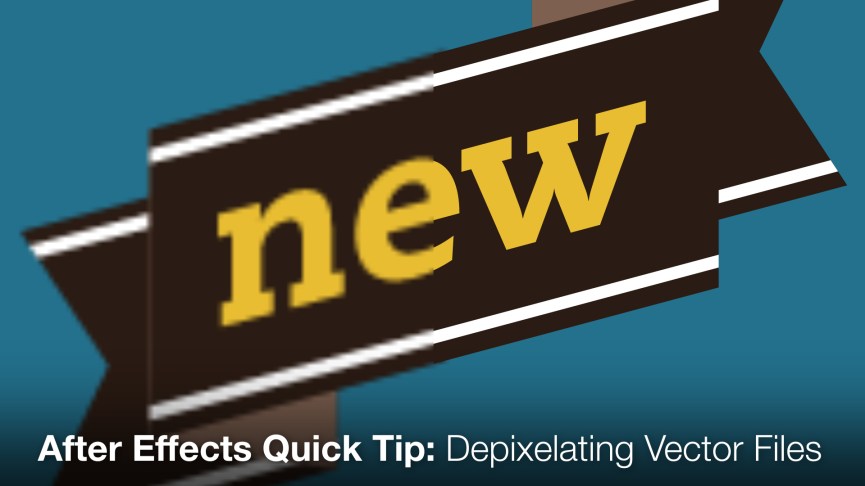 After Effects Quick Tip: Depixelating Vector Files
Are your vector files pixelated in After Effects? Enable 'Continuously Raster'.
Adobe Illustrator is vector based, meaning you can adjust the scale of Illustrator files without a loss in quality (it uses a system of equations to calculate the shapes of your object rather than pixels).


Both of these blocks are imported into After Effects, but the one on the right has "Continuously Rasterize" selected. 
However, if you've ever tried importing illustrator files into After Effects you may have realized that they remain pixelated when you scale them up in your composition. The enable/disable feature called "Continuously Raster" is unknown by many AE noobs, but is needed to get your vector files to scale smoothly in AE.  In this quick tutorial we'll show you how to use it.
1. Import an .ai, .eps, or .pdf file
After Effects accepts all four of these vector formats.
2. Move the vector file to your composition.
Simply drag and drop.
3. Select 'Continuously Rasterize'.
It's the box that looks like a sun. If you can't see it select the "Toggle Switches / Modes" button at the bottom of your comp layer. It should pop up now.
If you follow these steps your vector files will be smooth when scaled up rather than pixelated. This technique also works with pre-comps, so if you happen to have something like text inside of a pre-comp but need to scale it up you can hit the "continuously rasterize" button and you will now be able to scale it up without it being pixelated.
Have any other tips for using vector files in After Effects? Share in the comments below.