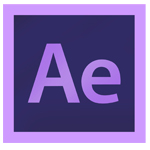 Animating Text on a Path in After Effects
Follow this informative video tutorial to create more engaging text in After Effects.  Animating text on a path in AE is easier than you may think!
When you want to create animated text in AE, with swirling lines and organic looking motion, there's no need to bring in text elements from outside applications like Illustrator. Instead, you can animate the text on a path directly from within After Effects. In this video tutorial, post production pro Evan Abrams shows you how.
Using Path Options in After Effects you can attach a word (or set of words) onto a mask path. This gives the impression that the text is following an invisible track, as it enters the frame, swirls around and then disappears. Evan digs into the advanced options of the After Effects animation tool to give the text on a path a more organic quality (expanding and disappearing as it moves along the motion path).
Although this isn't super complicated, there's quite a few steps involved in pulling off a natural looking text path animation in AE. So, a high level of patience or After Effects skills is strongly recommended.
Thanks for sharing, Evan!