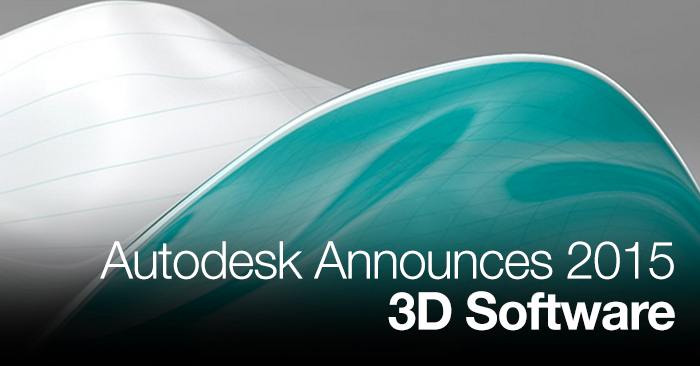 Autodesk Announces 2015 3D Software
Autodesk adds a ton of new features to the 2015 versions of their popular 3D software.
Autodesk just announced their 2015 Animation software lineup.  Autodesk is one of the world leaders when it comes to 3D modeling, texturing, and animation, so if you work with 3D design this is big news. Here are the new features:
Bifrost procedural effects platform which creates an artist-friendly workflow for simulation or rendering tasks, for photorealistic liquids
Xgen Arbitrary Primitive Generator which easily creates hair, fur, and foliage
Geodesic Voxel Binding for skinning characters
Shader-FX a node-based shading interface
Support of Pixar's OpenSubdiv libraries
Enhanced polygon modeling tools, expanded UV options
Shader-FX, a node-based shading interface
Point cloud dataset support for reality capture workflows
New viewport performance
A redesigned scene explorer to make it easier for artists to manage large scenes
ActiveShade support for the NVIDIA mental ray renderer
Python scripting support
New plug-in for Microsoft Kinect to help capture body movements for use in MotionBuilder
Animatable Depth of Field and Follow Focus camera options to recreate elements of real-world cinematography
A Robust content library with 100 commonly required character animations in the Autodesk FBX® format
Flexible marker assignment to adjust character positions
Geodesic Voxel Binding
Streamlined mesh refinement for retopologizing
Sculpt Layer and Paint Layer groups for organizing and identifying particular layers in complex scenes.
Interoperability with Maya 2015
Enhanced texture export and updating workflow
New caliper tool and support for Intel HD graphics 4000 on compatible Windows 8 operating system hybrid tablet/PCs
Software helps streamline 3D asset creation and management with Alembic caching
Enhancements to the ICE platform and animatable weight maps in Syflex cloth
Extended Creative Capabilities
The ability to exchange Ptex and multi-tile UV textures between Maya and Mudbox helps facilitate an iterative round-trip workflow between Mudbox and Maya.
Enhanced image plane matching between Maya and Mudbox allows artists to use the same reference image without having to readjust the image to match.
Export Blend Shapes with multiple targets or Blend Shapes from Maya into Mudbox. Then merge them back into the original Maya scene.
Import MotionBuilder character animations created in Softimage in a single step and export CrowdFX simulations from Softimage to Maya for inclusion with scene elements in one click.
Cloud integration allows artists to browse, open, modify and save Dropbox or Autodesk 360 files to the cloud directly through the Maya LT interface. Leverage 123D Catch or 123D Creature files saved in Autodesk's 123D cloud storage as a reference for creating game assets in Maya LT. More info on 123D Catch on the Autodesk list of Creative Design Apps.
Substance Material Integration allows users to apply materials created in the Allegorithmic Substance Designer procedural texture creation tool to 3D models.
New Software Release Date
Detailed release dates have not been announced yet but we did find an interesting article stating that as of February 1, 2015 Autodesk would be moving to a subscription based software platform.
What do you think of Autodesk's new features? Share in the comments below.