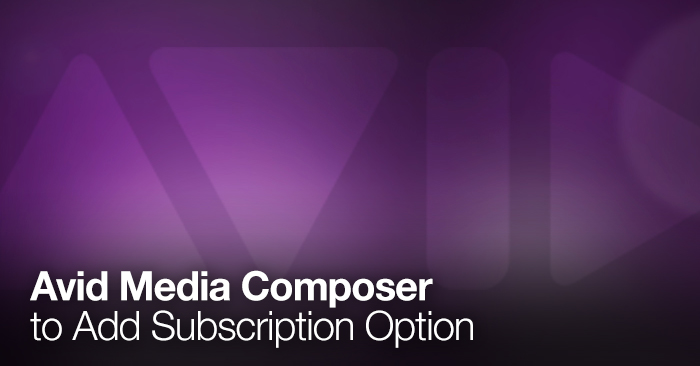 Avid Media Composer to Add Subscription Option
Avid recently announced a subscription option for Media Composer is coming.
One of the less buzz-worthy stories from NAB 2014 was Avid's unveiling of a new subscription based licensing plan for Media Composer. Up to this point in the company's life, Avid has made the majority of their money from outright lifetime licenses. For the end-user these licenses can get rather costly as a single perpetual license starts at $999.00.
Avid states that subscription based software will allow editors to pay for the software only when they need it. But perhaps more importantly a company with multiple editing bays can deactivate certain softwares as clientele expands or contracts. This move is most assuredly a response to the growing success of Adobe's Creative Cloud, but offering perpetual licenses and subscription based licenses would make Avid unique.
What's Included with Avid Subscription?
With each subscription users will have access to Media Composer with the Symphony Option, NewBlue Titler Pro 2, Sorenson Squeeze Lite, Boris Continuum Complete Lite, and iZotope Insight. Along with the software each subscriber will be given access to Avid Support which provides unlimited web and email support, and the option to call Avid once a month with troubleshooting questions. Standard support also gives editors access to the Avid video library, knowledge base and community pages.
Pricing and Availability
Avid promises that the subscription based software will cost less over time. Users have two subscription options, Yearly and Monthly. The yearly option is $599 a year which equals $49.99 a month. However, for those who sign up for a yearly membership in 2014, Avid is offering a $120 discount which equates to $39.99 for the first year only, then the standard $599/annual applies. For those who want to pay per month the cost is $74.99. Avid also offers a lot of other options regarding support for an additional fee per month/year.
Avid's website states that the latest version of Media Composer with subscription options is coming soon, but no date announced as of yet.. You can sign up to be notified when it becomes available and get more info on the pricing options in this PDF.
What do you think of Avid Media Composer offering licensing? Share in the comments below.