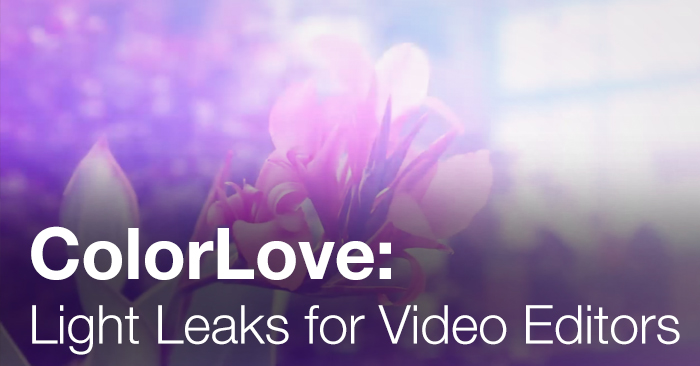 ColorLove: Light Leaks for Video Editors
LightLeakLove releases ColorLove, a new pack of RGB light leaks for video editing and motion design projects. Enter to win + $250 of royalty free music.
Our friends over at LightLeakLove have released their newest light leak pack – 87 light leak overlays and 66 transitional overlays. Each of the effects are clip based, so they will work in any video editing application or motion design application (Premiere Pro, Final Cut Pro X, After Effects, Avid, etc). Simply layer them in your app of choice and change the blend mode to reveal the light effect.
Take a look at the light leak effects in action:
The ColorLove pack is divided into Amber, Blue, Green and Rainbow flavors, with each color being organized into three folders for ease of use:
Frisky: Energetic, dynamic leaks
Tranquil: Calm, reserved light leaks.
Transitions: Fast paced, strong light leaks. Effective to cover edits.
Combine different light leak colors and speeds to create your own looks.
What's more, we've teamed up with LightLeakLove to give away a copy of ColorLove PLUS $250 of Premiumbeat music! Head over to the giveaway page for details and to sign up.
ColorLove is available from LightLeakLove for $35.99.