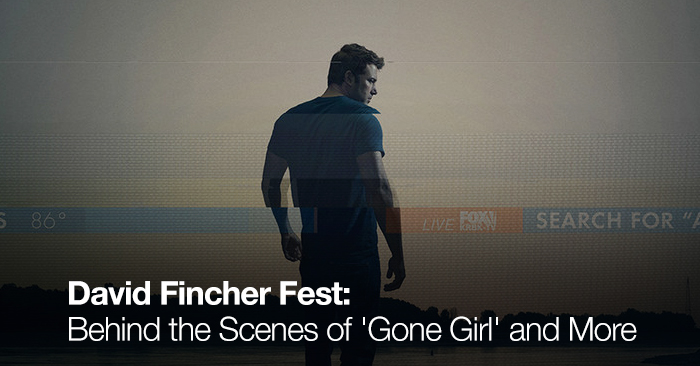 David Fincher Fest: Behind the Scenes of 'Gone Girl' and More
With the release of Director David Fincher's new film 'Gone Girl', a plethora of Fincher treats have hit the web. Here are the best.
Filmmakers love to love David Fincher and for good reason – his mastery of the craft is impeccable. In the excellent video essay from Tony Zhou above, you can learn just how Fincher uses cinematography, editing and staging to communicate the essential elements of the drama in each scene. Put aside the 7 and a half minutes needed as you are guaranteed to learn something new and be inspired to think more deeply about your own filmmaking craft.
Filmmaking Like Fincher
In this extensive supercut of the 6 main camera techniques that Fincher regularly employs in his filmmaking craft, you can get a sense for how Fincher uses the same techniques over and over. These techniques are obviously not exclusive to Fincher, but it is a great reminder of how effective these techniques can be, when used appropriately for the character development and scene at hand.
For a ton of other great filmmaking lessons, compiled from the best insights mined from every David Fincher DVD commentary available (courtesy of FilmSchoolThruCommentaries) check out this post: A Filmmaking Masterclass from David Fincher. For a couple of colour grading lessons from Stephen Nakamura, Fincher's go-to and world reknown colorist, check out this short post: Colour Grading a Fincher Film.

Image from VashiVisuals. Click for larger view. 
If you want to recreate the David Fincher look, all that brooding darkness, then you have to start with set and costume design, but the grading also plays an important role. In this excellent breakdown of key images from several of David Fincher's films, editor Vashi Nedomanski talks you through what is going on to create each look. Be sure to click on each image-board for a high res version.
My take-away from watching the last 4 projects by David Fincher is that he's utilizing quickly evolving technologies (RED, color correction, LED lighting) to redefine the visual boundaries of what is the minimum needed to represent and tell the story. It's bold and radically different from let's say…an episode of CSI or Transformers. It's reality enhanced and a new take on what is considered natural light filmmaking.

Then in post production/color grading, the midtones and highlights are lowered to bring down the overall brightness BUT most importantly…the blacks are never crushed so that the shadow detail is always retained. The final image is "Dark Clarity" and matches the mood and tone of his last 3 projects. – Vashi Nedomanski
Gone Girl
Gone Girl, based on the best selling book by Gillian Flynn, is Fincher's latest film, which means there are plenty of new interviews hitting the web as the marketing machine goes into overdrive. In this interview with Amy Taubin of Film Comment you get a sense of how much work Fincher puts into taking what could be very 'obvious' films and puts his own twist on them. For example if any other filmmaker had made 'Facebook the movie' would it have been as interesting as The Social Network turned out to be?
I think when you are working with a novel that sold six million copies there's a tendency to work backwards from the book, but the best adaptations work forward through the characters. And to have the novelist/screenwriter sit there and make eye contact with everybody and understand that implicitly. On some level she (Gillian Flynn) just took to it and realized that there is no point in fighting what these two people give us. You have to go through it with these people and allow them to shape it. 
From a technical point of view, Gone Girl is pushing new boundaries having been shot in 6K with the RED Dragon and edited and conformed in Adobe Premiere Pro CC and After Effects. Redshark News has nice one page breakdown of the film's technical details. Fincher used to be known for cutting in FCP7, but it's nice to see that he's moved to Premiere Pro, just like the rest of us.
Gone Girl was shot on the RED Dragon Camera at 6K and was then offlined at 2054 x 1152 (which allowed them to reframe shots and monitor them at 1920 x 800) in Adobe Premiere CC, before being conformed in Adobe Premiere CC and Adobe After Effects CC at 5120 x 2560. All the computers that were used were fitted with Nvidia's latest Quadro GPUs and all debayering, stabilisation and reframing was performed in real time using a CUDA based version of REDline (no REDRocket cards required)
HDVideo Pro has a very comprehensive article on the production and post work on Gone Girl, featuring interviews with DP Jeff Cronenweth and Assistant editor Tyler Nelson, which is well worth a read and is chock full of technical details. For more insights from Nelson on a Fincher-styled post production workflow, check out this article on his work on The Girl With The Dragon Tattoo.
Before starting Gone Girl, the team had an extensive talk with the Premiere engineers and got a commitment "to work closely together, not just for our needs, but so we could help develop it for the professional market," says Nelson. For the first couple of months of production, Adobe stationed a group of engineers at the editorial facility "to help fix bugs, create new features for us and to work closely with us to make the system more professional for future use in features," Nelson adds. (from HDVideoPro.com)
Previous Posts

'House of Cards' image from TheBlackandBlue.com
For even more Fincher-based fun you should definitely check out this previous Premiumbeat post going behind the scenes on the making of House of Cards (Fincher is a producer of the show and has directed several episodes).