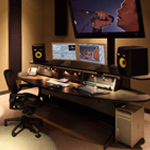 Awesome Resources for Edit Suite Design
Two industry pros sound off about edit suite design. A must read for any video editor looking to update their workspace!
Edit suites are changing. In recent years the introduction of smaller and lower cost equipment allows for greater flexibility in your edit suite design.
Recently going through an upgrade myself, I know there's a lot to take into consideration when creating your edit suite design. Will you be having clients in on edit sessions? How many video monitors will you need? Is it soundproof? Editors hoping to improve their workspaces will benefit from two posts by post-production pros Walter Biscardi and Oliver Peters.
DIY EDIT SUITE DESIGN POINTERS
Oliver Peters has been a longtime proponent of effective facility design and his most recent post on designing an edit suite provides a great overview of things to consider. A few takeaways on creating a professional grade suite:
• Use an APC unit for power back up and to shield against surges (extends the life of your electronic equipment and will give you enough time to save your work if the power goes out).
• Always keep ergonomics in mind.  Comfort should be one of the main priorities in your suite design. You need the right desk and the right chair.
• Great tips for insulating walls and ceilings – including double dry wall and using spray foam insulation in the wall.
• Don't purchase a VTR! With the ongoing shift away from tape in favor of file based workflows this is an important consideration. Oliver suggests saving the money (and space in your suite) by instead using an outside vendor in the rare cases that you may have to capture or lay to tape.
Read all of Oliver Peters' edit suite design tips.
ANATOMY OF AN EDIT SUITE
Many post pros may recognize Walter Biscardi, as he frequently shares his video editing knowledge on Creative Cow and Twitter. In his extensive post on the Anatomy of an Edit Suite, Walter breaks down the construction and components in his own edit workspace. Highlights from his EXTENSIVE overview:
• Make the chair your number one priority. You're going to be sitting it in it all day, everyday. Monitors are raised and on swing arms for a proper viewing position. The keyboard shelf height is adjustable. Keep the emphasis on ergonomics.
• Recommendations for specific broadcast reference monitors. Buy reasonably priced reference monitors for all suites (his recommendation: Flanders Scientific). This way, all suites are finish suites – a more efficient setup.
• Raise your audio monitors and use bass pads to prevent rattling. Walter shares how he created his own stands from easy to find galvanized pipe.
• Put a client computer in your edit suite. When a client's not in house it can double as a work computer (upload and download files), keeping your edit machine cleaner.
Visit BiscardiCreative.com for additional information on their suite design.
Additional note: Biscardi Creative recently migrated from being a Final Cut Pro 7 centered shop to Avid Media Composer. Walter shares his rationale for the switch in this post – a good read for any pro trying to determine their FCP alternative.