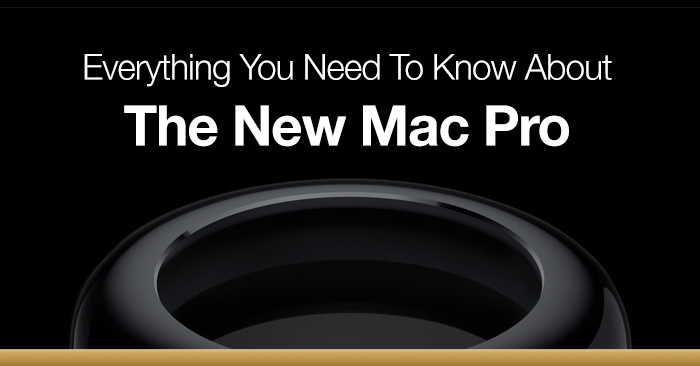 Everything You Need to Know About the New Mac Pro
Mac Pro Roundup! We've pulled together a ton of resources to get you up to speed on Apple's new top of the line computer.
If you're like me, you're eyeing up the new Mac Pro with a mix of child-like glee and technical questioning. If you're still wondering if it's worth the money then this round up of Mac Pro reviews, test runs, benchmarks and opinions will hopefully give you all the answers you're looking for.
Quick Facts about the Mac Pro
For a quick summary of the Mac Pro check out Macworld's 90 second review in the video above. If you want to know more nuts and bolts details about the Mac Pro you can head on over to Apple's exceptionally sleek looking official site.
On launch day Studio Daily posted 10 tips about the Mac Pro which offers a pretty good summary too. It has more recently been confirmed by OWC (via Macrumors) that the CPU on the Mac Pro motherboard is in fact removable, and therefore upgradeable.
Oh and if you hadn't noticed, it's actually pretty small… 9.9 inches (25 cm) tall to be precise.

Image from MacWorld
Mac Pro Reviews
All the major tech sites have written up reviews of the Mac Pro. As this is a roundup I won't repeat them all here but here is a decent selection of the best the web has to offer.
AnandTech probably wins points for the most comprehensive review of the new Mac Pro in this 15-part review. There really isn't a nook or cranny these guys haven't covered. So if that's the kind of depth you're looking for, read this.
The new Mac Pro offers an option for those users whose workloads can benefit from having more cores, memory and GPU performance. The latest version of Final Cut Pro as well as the rest of Apple's professional apps do a great job of splitting their work across multiple CPU cores. Even simple tasks like importing photos into iPhoto or Lightroom is extremely well threaded these days. It's in these workloads where a 6, 8 or 12-core Mac Pro can offer a healthy performance advantage.
Engadget has a decent review here, as does Macworld, who both rate the machine very highly. Macworld also has another review about the Mac Pro's upgradability including this short video above. If teardown's are your thing then you really can't beat Ifixit Teardown which you can read all about here. Or watch the video below.
From a creative standpoint Larry Jordan has posted his thoughts on the performance of the Mac Pro for video editing and which configuration would give you the best bang for your buck in this extensive review.
The Verge has an interesting 'conversational' review of the Mac Pro with plenty of insights from The Verge's video team including director/editor John Lagomarsino and Regina Dellea, their post-production coordinator.
We'll use the Thunderbolt 2 ports for peripherals like BlackMagic capture boxes, external hard drives, and fiber adapters to connect to our SAN. I'm glad they stuck with the dual Ethernet setup, too. It's always been a standout feature in the Mac Pro that you can connect to two wired networks simultaneously, or gang them together for double the bandwidth. I do wish Apple had included an SD card slot like they do in their other Macs, though.
Should I buy a Mac Pro or an iMac?
The main question you're probably asking yourself is: should I buy a Mac Pro (you already know you want one) or should I buy an iMac?
Arstechnica has a good opinion piece on whether you should drop $10,000 on a new Mac Pro here – thinking through all of the possible upgrade options to arrive at that top price.
Larry Jordan also shares his early thoughts on how to get the best bang for your buck when buying a Mac Pro (prior to the testing above).
Chris Potter from Screenlight.tv also has a very detailed financial breakdown of the decision to purchase a Mac Pro of an iMac here. In Chris' worked example he comes out in favor of the Mac Pro.
Some add-ons like a monitor should be included in the price of the Mac Pro, as they are needed to build a complete system that compares with the all-in-one iMac. In the case of the Mac Pro this could add $999 for a Thunderbolt Display, to $3,200 for a 4K monitor. Of course, if a 4K monitor is necessary for your setup, then an iMac shouldn't be part of your consideration set anyway.
Alternatively you could try building your own Hackintosh Mac Pro. Editor Dylan Reeve took at a good crack at it in this post, including a handy shopping list of parts if you're brave enough to give it a go. Although he has to conclude that:
In the end though the Mac Pro is a totally custom build by Apple. Currently we simply can't deliver the Thunderbolt 2 ports with that CPU, for example. Similarly the only ECC-supporting motherboard I could find compatible with the CPU has no USB3, only supports 1600MHz RAM and only offers 3 PCIe slots. This build is simply as close as I could get with what's currently available.
Also a rather enterprising German 'modder' has built this hackintosh out of an actual trashcan from Amazon. Not for the faint of heart!

Image from TonyMacX86