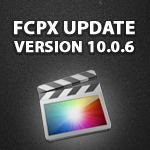 Final Cut Pro X Gets Major Update in Version 10.0.6
Final Cut Pro X gets a significant update with the release of version 10.0.6.  In this post, we share what improvements were made and why Apple might be once again focused on the professional market.
When Apple released Final Cut Pro X in April of 2011, it caught a lot of flack…and that backlash from the pro community hasn't let up much since.  Weekly we see case studies of pro video operations jumping ship from their beloved legacy versions of Final Cut Pro to Adobe Premiere Pro or Avid Media Composer.  The cries of "why did Apple abandon the pro market" can still be seen frequently around the 'net and in pro video circles.  But with each new FCPX update since the original release, Apple is adding new features that address the needs and concerns of post production professionals.  The new feature additions in FCPX version 10.0.6 are a testament to that.
Final Cut Pro X 10.0.6
Lost in the hubbub around the announcement of skinnier iMacs and pint-sized iPads, Apple announced some major improvements to Final Cut Pro X.  Being touted as the most significant update since the initial FCPX release, here are a few of the improvements in Final Cut Pro 10.0.6:
RED Camera support with native REDCODE Raw editing or background transcoding to ProRes
Resolution support updated from 4K to 5K
MXF plug-in support to work natively with MXF files using third party plug-ins
A dual viewer Event Viewer and Timeline Viewer, similar to what you were used to seeing in earlier versions of Final Cut Pro
Improved Sharing, including the ability to add custom Share output and output to multiple destinations
'Copy and paste attributes' window
Multichannel audio editing
Unified Import, single-window interface to import from all sources
Create freeze frames with a single shortcut
Compound clips are saved to the Event Browser
Expanded Multicam functions
Drop shadow effect with custom controls
Flexible Clip Connections
Chapter markers for export to Quicktime, DVD and Blu-Ray
For more info PhilipHodgetts.com has a detailed breakdown of each of the new FCPX 10.0.6 features.
The FCPX 10.0.6 update is FREE for existing Final Cut Pro X users and can be downloaded from the Mac App Store.
Although it may be too little too late for some video editing pros that have already jumped ship from Apple, those willing to take a shot on Final Cut Pro X might be surprised at how far it's come since it's initial release.  Perhaps Apple just put he app to market too early…and instead should of waited until they could integrate the type of features we're now seeing.  These incremental advances in the video editing application show positive signs that Apple does indeed care about their user base and are are dedicated to the app into the future.
What do you think of the new 10.0.6 FCPX update?
Are you ready to make the switch to FCPX?  Tell us in the comments!