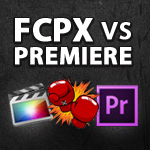 FCPX vs Premiere – Which Editing App is Right For You?
Not sure which video editing application to use? Check out this video that breaks down the differences between two of the leading contenders in pro editing – Final Cut Pro X vs. Premiere Pro.
Whether you're just now debating a jump from Final Cut Pro 7 or trying your hand at serious video editing for the first time, you may find yourself wondering which video editing application is right for your needs.
Ric Lanciotti, a professor at the Pacific Northwest College of Art, has examined in detail the differences in FCPX vs Premiere Pro and then shared them in the informative video below.  Ric comes at his analysis from usage in an educational environment but many of the comparison of FCPX vs Premiere are applicable for the professional editor as well.
The video runs at about :45 minutes, but for someone seriously looking at making a switch it's time well spent.  In the end a winner is determined based on cost, features and usability (especially for users that are just getting into editing).  See for yourself the FCPX vs Premiere Pro victor… it may not be the one you would have guessed.  Thanks for sharing Ric!
Best viewed full screen: