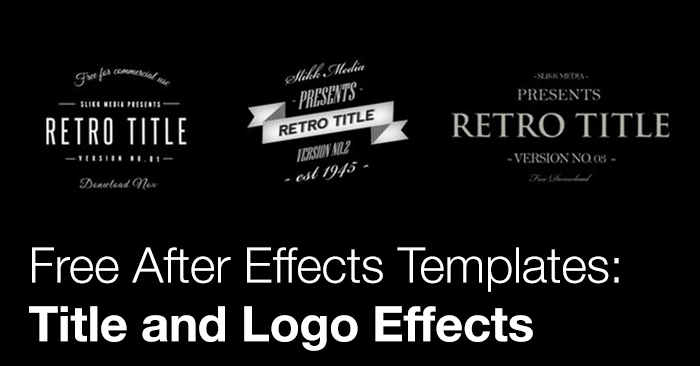 Free After Effects Templates: Title and Logo Effects
The creators of these free After Effects templates are giving you a quick way to add impressive title effects to your video editing and design projects.
We've rounded up the following free After Effects templates to use in your video editing and motion design projects. From modern 2D 'flat' design to a grungy horror themed intro, these templates can save you a ton of time.
Know of other free After Effects templates? Share them in the comments!
Retro Titles: Free After Effects Template
Hipster badges, logos and titles are all the rage right now. This free After Effects template title pack by Slikk Media offers 5 retro title designs in the popular 'hipster' style. These title effects are versatile and would fit well in a wedding video, event announcement or video slideshow.
Blood Splat Title Template
Perfect for a horror film or Halloween themed project, this blood spat After Effects title template adds some gore. The template comes with 6 different title slides, so you have a range of options. It was created and shared by Editing Corp.
Bourne Identity Style: Free After Effects Template
This free After Effects template is created in the style of the Bourne Identity films. It's ideal for any project that requires a dramatic punch. We're a big fan of the light and dust effects featured in the template, as it really sells the effect.
Modern Motion Titles: Free After Effects Template
Check out these modern logo reveals from Motion and Design. Utilizing the popular 'flat' 2D design style, these free After Effects templates would be fitting to kick off a brand or product video.
After Effects Template: Flip Logo Reveal
This last free After Effects template is the most simple one on the list, but also the most versatile. Plug your logo into the project and it will animate a 'flip' effect to reveal. It's a clean modern look that can be used in a variety of projects.