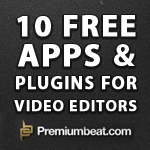 10 Free Apps and Plugins for Video Editors
Check out these 10 FREE app and plugin resources for video editors! These post production tools are heavy on results and light on the pocketbook.
In this post, we've rounded up 10 of our go-to free applications and plugins for video editing. Learn more about these post production tools and then integrate them into your own video editing workflow.
Do you use a free video editing app or plugin that didn't make the list? Let us know in the comments!
---

1.  DaVinci Resolve 9 Lite (Mac, PC, Linux)
Want that big budget film look for free? This is a free version of the industry standard for color correction, DaVinci Resolve.  It is limited to SD and HD resolutions but will meet the  needs of most video editors and gives you much more control than the built-in color correction tools in your editing apps.
Version 9 adds Looks (presets) to an already strong feature set that includes tracking, secondaries, sharpen/blur. You can export XML from Premiere Pro, FCP 7 and FCPX  (page 148 manual) and AAF from Avid Media Composer (page 140 manual).
Visit Blackmagic Design for download and more info.
---

2. Preference Manager (Mac)
Preferences sometimes get corrupted and this results in unexpected behavior in your video editing app.  Preference Manager is an app that allows you to backup your preferences, and then reload your backed up preferences when needed -a  great utility that  is editing app agnostic. Manage and backup your preferences for FCP 7, FCP X, Premiere Pro, and Avid Media Composer.
Visit Digital Rebellion for download and more info.
---

3. Levelator (Mac & PC)
The Levelator evens out audio levels for speech based audio (not for music). Great to use when creating podcasts and other voice only projects. The "Read Me" that comes with the app gives you handy tips on using it.
Get more info and download Levelator.
---
 
4. PostHaste  (Mac & PC)
Creating folders for your video editing projects is a necessary but tedious job. This project management tool for editors (and photographers, motion designers) takes the work out of setting up each new project.
It creates a folder structure for your projects.  Use the default templates or modify them and make your own.
Get more info and download Poste Haste
---
 
5. AJA Data Calculator (Mac, PC, iOS)
Calculate your video storage needs based on what format you are editing with. Not sure if you need more storage before you start your project? This is the app for you.
In this calculator you can specify frame size, frame rate, compression, audio sample rate/bits & audio channels.  An indispensible tool for video editors!
Get more info and download AJA Data Calculator. 
---

6. Klok (Mac & PC)
Klok is a free time management app. Use Klok to track hours for freelance video editing projects and billable hours. No more jotting down time by hand or having to go back and calculate your hours.
Integrate Klok into your routine.  It's a simple app that works.
Get more info and download Klok for Mac or PC.  
---

7. CoreMelt Free  (Mac/PC, PP, FCP, AE)
Coremelt creates quality plugins and effects for popular video editing applications.  This free collection of useful plugins (39 in total!) will work in Premiere Pro, FCP7/X, & After Effects.  
Excellent transition and titling presets to add style to your video projects.
Download the free CoreMelt plugins.
---

8. AOTG (iPhone/iPad)
The Art of the Guillotine is a go-to source for all things related to video production and post.  Get this App for your iPhone/iPad to keep up with news, articles, and tips for editors. As they say, knowledge is power.
Download the AOTG app.
---

9. DV Rebel Tools (Mac & PC)
Handy tools for color correcting in After Effects. Want a vignette? Simply, click the "New Vignette" button and tweak to perfection. From post production expert Stu Maschwitz.
Download the DV Rebel Tools from ProLost.
---
 
10.  Adobe Story Free (Mac & PC)
If you are using Premiere Pro, You can load scripts from Story Free into Premiere Pro for better speech analysis results (handy for documentary or narrative work).  You can also export an XML from Final Cut Pro 7, Premiere Pro or AAF from Media Composer.
More info on Adobe Story over at Adobe.com
Do you use a video editing app that should have made our list?
Please share it in the comments!