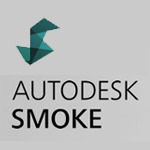 Free Autodesk Smoke Master Classes Available
Autodesk has released Smoke and Flame training for free via their Autodesk University MasterClass Online Program. Check them out for some excellent instruction from working professionals using Smoke & Flame.


The first Smoke MasterClass I am especially fond of, well, because I am presenting it (shameless plug).
If you ever need to create motion graphics for your projects, including 3D graphics, then Smoke works quite well.  I breakdown and show you a few examples and some tips and tricks I have discovered and used in my own Smoke projects.
In this free Smoke training I'll show you how to…
Create "glassy" 3D Text with reflection and refraction.
Importing and Texturing 3D Models from VideoCopilot's Element 3D Model Packs.
Breakdown of actual on-air jobs
Create better animations with keyframes based on sounds and using Motion Paths in Smoke.
I'd love to hear your comments on the presentation. So feel free to comment below or on the Autodesk site.
Preview Video:

Michael (Pants) Sands an award winning visual effects artist. Before joining Post Asylum in 2008, Sands held positions as a motion designer, 3D animator, VFX supervisor and editor for several studios, including Post Op, Pony Productions, and Fresh Produce. Michael breaks down a commercial he worked on for Hasbro and illustrates how to build and animate a Rubik's Cube in Smoke's Action.
Preview Video:

Now, I know this is a Smoke blog, but because Autodesk Smoke shares many of it's workflows with Flame this MasterClass is also worth checking out.  It goes over Color Management, gamma vs gamut, HDR Images, Smoke/Flame workflows for video, film and CG. An explanation of the new ACES workflow is also shown.
The class is presented by Cédric Lejeune a workflow specialist for high-end VFX and digital cinema. Cédric sets production pipelines and trains people all around the world.  He's an Autodesk Certified Instructor on Lustre, member of the DKU (Discreet Knowledge Unit) and a color science instructor at the International Colorist Academy.
Preview Video:

It's great that Autodesk provides these MasterClasses to explore more advanced workflows and effects for their products.  The beginner videos are great to get started, but the more advanced classes really highlights the power of the tools. It's great that working professionals can provide their time and talents. I personally was honored to be asked to contribute and hope that the class is well received.
You need to register for the Autodesk AREA site to see the videos, it's free, and there is a lot of good info. Also the site hosts a revamped community forum for user-to-user and even user-to -Autodesk communication.