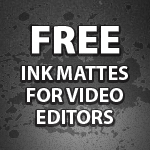 Free Ink Mattes for Video Editing and Motion Design
Give your video projects a unique, stylized look with these FREE ink mattes from CreativeDojo!
Premiumbeat blog friend VinhSon Nguyen from CreativeDojo.com has released a free pack of Ink Mattes.  These unique textures can be used in a wide variety of video editing projects and are great for logo or title reveals.
Details on the Ink Pack:
20 Ink Mattes (.MOV)
All 8 seconds long
1920×1080 resolution
60fps
PhotoJPEG compression
As these are all video files (as opposed to filters or plugins), they can be brought into any video editing or motion design application (like AE, Final Cut Pro X or Premiere Pro). The pack contains "small ink mattes, large ink mattes, reversal mattes that bleed in and out, and many other variations" all in high resolution 1080 HD. To use the clips as a reveal, VinhSon recommends setting the ink clip on the top layer and choosing "layer matte inverted" from the blending modes. It's a great way to create an organic ink look in After Effects!
Jump over to CreativeDojo to snag the Ink pack download.
Thanks for sharing, VinhSon Nguyen!