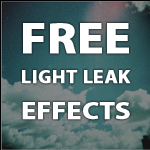 Free Light Leaks for Video Editors and Motion Designers
Give your projects style and flair with FREE light leaks from CreativeDojo.net!
Light leaks are a quick way to add visual interest to your projects.  Give your footage an edgy, vintage feeling or use them as cool transitions between shots!  Great for live action or animation projects.  High quality light leaks usually come with a price, but CreativeDojo.net is graciously giving away their own light leaks package for FREE!
The Creative Dojo pack includes 16 free light leak effects that are rendered in 1080P HD.  Each of the 16 leaks are individual clips, so they can be brought into any non-linear video editing application including Premiere, Avid or Final Cut Pro.  VihnSon at Creative Dojo offers up some advice for customizing these free light leaks – such as applying blending modes and adding filters to create totally unique effects!
Download the free light leak effects from CreativeDojo.com and while you're there be sure to check out their extensive motion graphics and visual effects tutorials.  The download is a bit large (500 mb) so be patient! Thanks CreativeDojo.com for sharing these free light leak effects!
Video Example of the Light Leak Effects