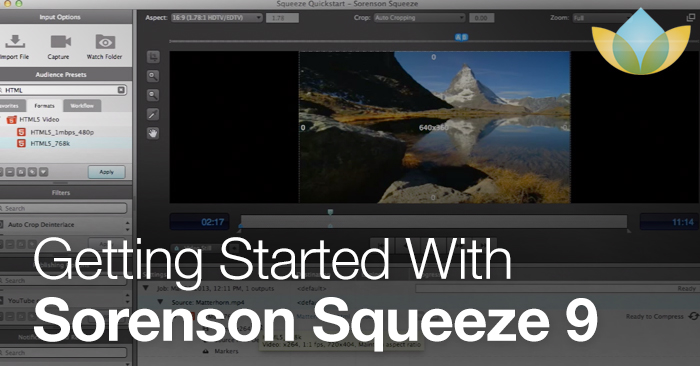 Getting Started With Sorenson Squeeze 9
Learn the essentials of video encoding in Sorenson Squeeze 9 in under 15 minutes.
If you've never used Sorenson Squeeze before these short tutorials will help you get started with all the essential features. If you're signing up to Avid Media Composer's new subscription model you'll have access to Squeeze Lite thrown in. If you like what you see here, then you can download a free trial from the Sorenson site.
In this 90 second tutorial below you can see how tightly Sorenson Squeeze and Avid are integrated and the easy workflow for sending your Avid timeline through to Squeeze for encoding. The tutorial below that, demonstrates how to get your Avid ready MXF files from Squeeze into Avid.
Sorenson Squeeze 9 Tutorials
Some of the new features in Squeeze 9 included an updated user interface, creating HTML 5 videos in one preset, speed increases and the ability to stitch encoded videos together.
Although it's not usually ideal to add video filters to your project at the encoding level (better done in the video editing app itself), if you need to modify the look in a pinch you can do it with Squeeze filters:
The interface gets an update in version 9:
Presets for a ton of devices, including the ability to publish to specific apps:
Publish straight to the web (FTP, YouTube and others):
With Squeeze 9, Sorenson's aiming to take market share away from other popular encoding apps like Apple's Compressor and Adobe's Media Encoder.
The popularity of the Creative Cloud and seamless integration with other Adobe apps, has no doubt put Media Encoder into the hands of a lot more users as of late. Without offering a radically different product, it will be interesting to see if Squeeze version 9 can make a bigger splash in this market.