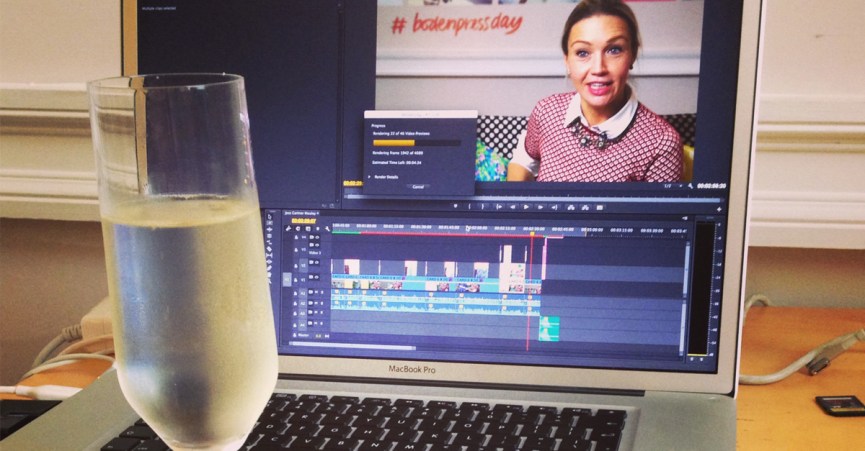 How To Become A Better Editor in 2014
In this post, we take a look back at the post production landscape of 2013 and ahead to the future of video editing and post in 2014.
At the beginning of this year I wrote a post called 5 Ways To Become A Better Film Editor, in which I sketched out the ways in which I was looking to improve as a freelance film editor, and hopefully shared a few useful thoughts on how you might do the same. I thought it would be a fun idea to look back over 2013, as well as ahead to next year, with a few more thoughts on the year in review.
5 Ways To Become A Better Film Editor
To sum up 5 Ways To Become A Better Film Editor I essentially said the ways I wanted to improve were:
To get faster
Become more collaborative
See more inspiring work
Make time to learn
Get more exercise to fuel my creativity
The Year in Post Production
I think the most striking change in 2013 has been the multiplication of applications on my system. I started the year with only Final Cut Studio 3 on my machine and have ended the year with Adobe Creative Cloud and Avid Media Composer 6.5 (yet to buy that upgrade!) fully installed. I'll almost certainly added FCPX to that mixer in 2014, once the December update finally appears. And who knows, I might end 2014 with Lightworks for Mac installed too.
.@jonnyelwyn The Mac version of #Lightworks won't ship this month. It's coming together, but it looks like it'll be next year at this point.

— EditShare Lightworks (@ESLightworks) December 12, 2013
In terms of actual work, Premiere Pro is the newest addition that has actually added money to my pocket, although I've definitely spend the majority of my time in FCP7. It is interesting to note that in an industry that is purportedly all about change, the majority of people are still using FCP7 (according to this PBS survey). It doesn't surprise me too much. Most people are reluctant to change "if it ain't broke, don't fix it". One day of course FCP7 really will be untenable as an editing platform, but that day has yet to come.
Three quick thoughts on Adobe Creative Cloud:
The most useful part of having an Adobe Creative Cloud subscription is quick and easy access to every single Adobe app, which is actually incredibly useful. Being able to quickly open a designer's Illustrator files, or adjust a client's asset in After Effects is just a short download away. It also allows you to get into apps that you may otherwise never have spent any serious money on. When I was laying out my new ebook, How To Be A Freelance Creative*, I was able to get up to speed with InDesign in no time at all. As for Premiere Pro, it was incredibly easy to make the move from FCP7 (in part because there is a preset for the FCP7 keyboard shortcuts). *Look out for my ebook, early in 2014!

Constant updates are great when they bring bug fixes and new features, but it's all to easy to hit update and acquire a new set of bugs that haven't been fully ironed out yet.
Getting hacked and spilling millions of users information into the Internet is not cool. Be sure you're keeping your digital life secure by using different passwords for every site.
So what happened to Avid Media Composer? Well as you can read in my 6 part 'Diary of a Switcher series' it all got off to a very difficult start. Hours and hours of frustration, googling and head scratching made the barriers to entry just that bit too high for me to really get much traction with it. I still believe it is an absolutely essential piece of software to learn (most pros would say that), but they sure don't make it easy.
The other problem is that I still don't feel confident enough in the program to take paying gigs on it, which in turn, means getting adequate milage on Avid is difficult to acquire. Still I'll press on in 2014.
As a final thought for editors looking to become more employable in 2014 I would say adding more NLE's to your skill base, especially with FCPX or Adobe Creative Cloud being so affordable, is a sensible investment that will easily pay back dividends over the year.
2013 Stretching Into 2014
Some of my other goals for 2013 were to get more exercise and to create a healthier life at work. Exercise-wise I did pretty well, running most weeks until the dark winter nights set in. I'll get back on the exercise bandwagon in 2014 as it definitely helped with the 40+ hours a week I'm normally strapped to my desk.
Another thing that really helped was hacking a standing desk together (read about it in this post) although at the end of 2013 I got a taste for the real deal with a few days in an edit suite with a very sweet standing desk. Being able to raise and lower my desk at will on electric motors (something I can't do with my hacked desk) will be a luxury I hope I can justify in 2014.
Whatever you can do to input more exercise, healthy food and sleep into your life in 2014 will be well worth it. Standing has definitely increased my sense of energy and productivity in the mornings and I'd recommend it to anyone. Just get your set up ergonomically ironed out for a firm and comfortable foundation.
2013 also saw me doing a bit more producing, particularly of animations, which has been a good exercise in terms of dealing with clients on a much more in-depth way. An an editor I mostly only have to work with clients on an artistic basis, rather than negotiate, manage and coordinate with them as a producer would do. I never really want to be a 'preditor' (producer/editor) but I do hope to do more of this kind of work in 2014. It is a good skill for me, and anyone in post production for that matter, to develop.
The key to success in business is almost always tied to good relationships with people, whether they be clients or fellow creatives. I intend to nurture and improve on those relationships that matter most to me in 2014.
A Few Highlights From 2013
I'm looking for ways to expand my knowledge base, but this year's topics that have interested me most are how business works, how people work and how people and business work together. This video from hedgefund manager Ray Dalio has been one of my favourites of the year, and I've come back to it time and time again. It's a great example of educational storytelling.
My favourite film of the year was, undoubtably, Gravity. If you missed out on seeing it in 3D and in the cinema you missed out on a spectacular cinematic experience that really proved how good 3D films could be. The making of Gravity was also one of the most popular posts on my blog, as audiences sought to find out just how they pulled it off!
The most fun post production experience of 2013 was my time at the first ever Edit Fest London (check out the lessons I learned in this post) and my recommendation to anyone working in post production is to get out of the office and into a meet up like EditFest NY, London or LA or any of the great Supermeets. Physically meeting others who work in your industry is a brilliant way to expand your network and put faces to Twitter handles.
Gear wise the best investment I made this year was upgrading the boot drive of my laptop to a solid state drive. Not only does everything boot, copy and load faster, but there are now no moving parts in my laptop to really fail. Also upgrading from Snow Leopard to Mountain Lion was a tentative move forward. I like to sit comfortably behind the front of the adoption curve.
I don't know about you, but my most anticipated movie of next year is definitely Christopher Nolan's Interstellar. The first teaser trailer hit the internet this week and it sets the mood brilliantly. There's a lot to look forward to in 2014.