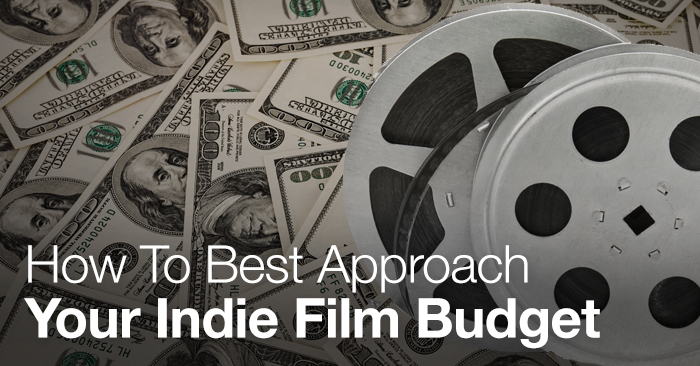 How To Best Approach Your Indie Film Budget
Whether you're creating a low-budget short or a multi-million dollar feature, follow these considerations for creating a comprehensive (and realistic!) film budget.
No matter what your budget, there is always one constant: creating a budget for your film should surely guarantee that every dollar will be spent wisely. A properly constructed budget will allow you to look critically at all of your departments, which in turn provides you with much needed clarity on critical decisions that need to be made throughout the process. For example: How much do you need to set aside for star talent (if any)? What elements can you, or need to, barter for if the budget is very low? Is it better to rent or buy gear? What can you get for free? What are the largest unavoidable expenses?
To begin the budgeting process, I recommend breaking things down into the 4 following major categories, all of which are standard to just about any film budget:
Pre-Production ~10%
Production ~35%
Post-Production ~35%
Distribution and Marketing ~20%
Understanding your needs, ahead of time, for each of these basic components of the filmmaking process will keep you organized and ultimately make your life that much easier.
Pre-Production
Pre-production is comprised of all the items you must address in the beginning phases of your production up until the day you go to shoot your film. In this stage, your budget will account for items such as location scouting, insurance, office expenses, courier services, script fees, casting director rate, and just about anything else that you need to pay for before actually getting to set. Theoretically, pre-production should be the easiest to predict in terms of cost and if you're shooting a low or micro-budget film, this stage will likely be the cheapest of the four components of your budget (no more than 10%).
Production
For films of any scale, production is often where the most amount of money is spent, simply because there are more unavoidable costs during this stage. Big ticket items such as paying your cast and crew, location permits, gear rentals (including the camera, lenses, filters, rigs, tripods, and extra batteries), insurance etc. are all items that necessarily will need to eat into your budget. Other line items such as catering, lodging (if necessary), transportation costs for cast and crew and makeup are also big considerations, but some of these can be mitigated by thinking outside of the box. For instance if you're really on a shoestring budget, you might be able to get a local catering company to sponsor your film, ultimately bringing down your food line item.
During production it's wise to keep a "miscellaneous fund" or rather a contingency of money that isn't accounted for in case you incur unforeseen expenses such as repairing equipment that breaks or renting additional gear that will help you get the most out of your shots. As I mentioned earlier, the majority of film budgets are spent during production (not including huge blockbusters that spend the most on marketing), but regardless I typically recommend designating about 35% of your budget to actually shooting your film. As you will see in the sections that follow, both post-production and marketing deserve just as much attention and funding.
Post-Production
I always advise leaving a healthy portion of your budget for post-production, even if you aren't making a heavily post-driven film (such as a VFX spectacle or action movie). No matter what genre you're working in, if you skimp out in post your film will suffer and the money you spent in production will be somewhat wasted. Post-production funds will go towards your editor, colorist, sound designer, composer, and the rest of your post team. Not to mention you may need money for music licensing, stock footage, and deliverables (like a DCP for festival screenings).
Personally, I recommend allocating about 35% of your budget for post-production (the same as your production budget). This may seem like a lot, and many filmmakers choose to put more into production, but you will be doing your film a disservice by cutting corners in this department. Your final audio mix alone is worth its weight in gold, as clean audio will literally make your film more valuable when you go to sell it. I've seen some films completely ruined in post production because of a lack of funds…and these were films with great scripts and great production/cast/crew behind them. Without enough budget or time left over for post, the final products just didn't work.
Distribution and Marketing
Once you've got the final master of your film, it's time to start pushing it out into the world. It's rare that independent filmmakers allocate a sufficient amount of budget to marketing, but this should really never be the case. After all, without marketing dollars no one will ever see your movie.
To start, you need to create a strategy to reach your audience and eventually turn a profit. There are cost efficient options such as blogging or reaching out to other bloggers/online publications in hopes that they will share your films trailer or write a review. As well, social media outlets such as Facebook, Twitter, and Vimeo can be instrumental in your films success on a grass roots level if you really push things on those platforms.
That said, you will also want to account for the following, more costly, items marketing in your budget: A website for your film, screenings at various theaters, film festival applications, local ad campaigns, and hiring a publicist (if needed). Like any other phase mentioned here, make note of what can be done on your own and what bartering options are available to you within your network to keep your costs down. In any case, do your best to allocate at least 20-30% of your funds to marketing, and be prepared to do most of the leg work if you are trying to keep the costs down.
There is no one-size-fits-all budget format, and ultimately you must create a budget that is most in-line with your film's needs. However it is essential that you create a well thought out, organized budget for your project to ensure that all bases are covered when it comes to the four important elements of filmmaking. Familiarizing yourself with the film's needs ahead of time will make the entire process (and your life) easier.
When you begin itemizing your expenses, be sure to gain a clear understanding of what you can contribute to the process on your own and who you can utilize in your network to lend your film a helping hand. After you've worked out these essential details don't forget to include some breathing room by creating a "contingency" fund, which will go toward miscellaneous or unforeseen expenses you may (and likely, will) incur when setting out to make your film.