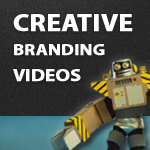 Inspiration! 14 Creative Identity & Branding Videos
Check out our roundup of innovative identity and branding campaigns. Great inspiration for video editors, directors and motion designers!
We've rounded up some of the most unique and experimental identity and branding videos for your creative inspiration!  From super slow motion, to 3D animation to inventive stop motion sequences, these videos represent some of the finest work in identity and branding.
DISCOVERY CHANNEL
by Nerdo

Amazing 2D images get a 3D treatment in this awesome identity spot highlighting Discovery Channel's best programming.  Check out the breakdown video to see some of the post work that went into creating this unique effect.
MTV EUROPE
by zeitguised
A confectionary delight!  Animated candy molds to form unique shapes and designs.  What does it have to do with music?  Who knows!  But it's a beautiful branding animation – modern and clean!
SCIENCE CHANNEL
by Simon Holmedal
Awesome organic looking visual effects give a futuristic flair to this under-the-sea identity piece for the Science Channel.
T4
by double g studios
Live action RED footage and Cinema 4D animation create this fun retro-futurism branding spot for Channel 4's T4.  Each of the 20 robots is given their own unique personality to impressive effect!
7TV
by Greg Barth
Russia's 7TV gets rebranded in this series of stop motion animations.  A cohesive theme for 5 unique spots.  Stellar work!
KOMMERSANT
by double g studios
Unique and modern identity package for Russia's Kommersant.  Experimental animations and live video present an unorthodox approach to identity for a news station.
Moviebox
by BEELD.motion
A unique and playful animation style that has an organic handmade feeling.  The animations depict popular film cliches and genres in a cohesive and exceptional way in this identity piece for a channel devoted to movie news.
Channel [V]
by Where There's Smoke 
Take a musical journey in this epic identity video from Australian music Channel [V].  100's of popular musicians were composited together in this amazing visual collage.  This one has to be seen to be believed!
Channel 4
by ManvsMachine
An odd and wonderful identity package for Channel 4.  Colorful squares show up in the most unlikely of places.
Watch
by DixonBaxi
Dazzling colors!  From slow motion liquids to flying fur balls, this dynamic spot gives a surreal color splash to organic looking elements.  A visual delight!
MTV Asia
by MIRARI
Created as part of MTV Asia's Chinese New Year package, this branding animated spot adds a futuristic, urban element to a traditional theme.  An awesome animated dragon ties it all together! 
Watinaya
by Linus Lundin
Motion tracking and Cinema 4D design were used to create this series of hip identity pieces for Wataniya TV.  Simple with a clean, organic feel.
Spine TV
by Joseph Pelling 
Unique series of 2D identity animations for Spine TV.  Great sound design and a clean, quirky animation style that pairs well with the irreverent messaging.
SKY
by MINE // Jon Yeo 
Beautiful powders of vibrant color coalesce in this identity package for the UK's SKY 3D channel.  All of the action was shot live, instead of CG, for an organic feel.  Footage was shot on the Phantom slow motion camera at speeds up to 5000 frames a second.
Which is your favorite?
Let us know in the comments!