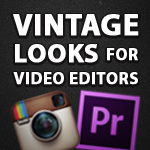 Video Editing Presets for a Retro 'Instagram' Look
Want to give your videos a retro film look that's totally in vogue right now?  Check out these free colorization presets for Adobe Premiere Pro that will give your footage the popular "Instagram" look.
Retro looks for video are hotter than ever and in this post we'll share another source for FREE vintage effects for your video editing projects.  We were recently tipped off to the CinemaFX presets bundle from a Vimeo video that used them to create an "Instagram" style color grade.  Luckily, there was an accompanying written tutorial explaining how the vintage color look was created.  Have a look at that video here:
The video was shot on a DSLR and edited in Adobe Premiere Pro.  A variety of light leaks and overlays were used to create the film look (for free light leaks see the link below), but the basis for the color grading was done using the free CinemaFX Presets.  Several of the 56 color grading presets in the pack will warm up your footage for a retro, sepia-tinged look.    A fast and simple way to get a good baseline color grade for your Adobe Premiere Pro projects!
Looking for other vintage video editing plugins?  Check out some of our past posts showcasing paid and free retro and vintage film effects:
What video editing tools do you use to give your footage a retro look?
Let us know in the comments!