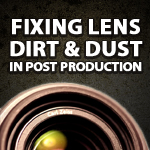 Removing Lens Dirt & Dust in After Effects & Photoshop
In the following video tutorials you'll learn how to clean dirt and dust off your footage in post using Adobe After Effects or Photoshop – perfect for improving your shots when you're in a bind!
If you've ever come back from a shoot (or received footage from a video crew) only to realize that there was dust on the lens….whew, it can be a HUGE bummer.  Although nothing beats shooting with a clean lens from the get-go, there are some things that you can do in post-production to clean up your shots.  In the following tutorials two editing experts share their techniques for dirt and dust removal in Photoshop and After Effects.
Angie Taylor – Photoshop Dust Removal
Adobe expert and trainer Angie Taylor shares her lens dust removal technique in this really informative tutorial.  For hardcore Adobe users, this workflow is fast and effective for removing lens and dirt from your footage (really impressive results!):
Export through Adobe Media Encoder as an Image Sequence (TIFF)
Open this image in Photoshop
In Photoshop CS6, make sure "Tool Recording" is checked
Record an action using the Healing Brush
Go from Photoshop to Bridge
In Bridge, batch that Photoshop action across all frames
This video was originally produced in association with Motionworks.
John Hess – Dirty Lens in After Effects
Director and editor John Hess shares his dirt and dust cleanup trick in After Effects.  While shooting a short film he realized during the shoot that there was dust on the lens.  Instead of re-shooting the earlier scenes he brought them into AE and cleaned up the dirty lens with filters and masks (the clone tool would be another suitable alternative in AE).  Here's Johns basic workflow:
Adding a solid and mask to the comp
Feather the mask.
Change the blend mode (in this case to Color Dodge)
Modify opacity
Add Color Balance (HLS) filter to tweak
Walk through John's step-by-step process to discover how to use this 'fix it in post' technique on your own projects: