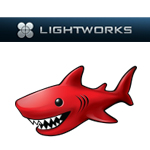 Lightworks for Windows: Your Next Video Editing App?
After months of anticipation, Lightworks is out of beta and sees it's full Windows release.
Although many new editors may not recognize the Lightworks name, they'll surely be familiar with some of the popular films cut on this video editing application – Hugo, The Kings's Speech, The Departed, Braveheart and Pulp Fiction to name a few.  Lightworks was originally created in 1989, during the dawn of digital non-linear editing, but when Avid and Final Cut Pro usage exploded, the hardware/software based Lightworks took a backseat.
That may soon change though, with the recent release of Lightworks for Windows, an open-source video editing application "designed for editors, by editors."  The new Lightworks is a full featured video editing application that includes the following features:
Drag and drop timeline
Resolution and codec independent (mix and match formats)
AutoSync trimming
Mixed format multicam editing
Support for 3D / stereoscopic workflows
Powerful metadata and media management tools
Autosave projects
A dedicated editing console is one of the foundations of the Lightworks system.  All of the well-known feature films to date that were cut on Lightworks have utilized this editing console.  A paddle and hotkeys allow you to use the console to complete most common editing functions.  It can be purchased separately from the Lightworks store for $2,800.
Lightworks seems to really excel in project sharing capabilities with the ability to share media, bins and edits with controlled permissions.   These realtime collaboration features work with any network storage, and make Lightworks a good solution for larger post production environments.
Lightworks for Windows is free, but a pro version is also available for $60. Lightworks Pro offers additional features, format support and inclusion in the Lightworks Pro Community.  Be on the lookout for Mac and Linux versions…slated to be released later in 2012.  As many editors transition from Final Cut Pro 7 to other applications it will be interesting to see if Lightworks has what it takes to shake up the video editing market.
Get more information and download Lightworks at lwks.com