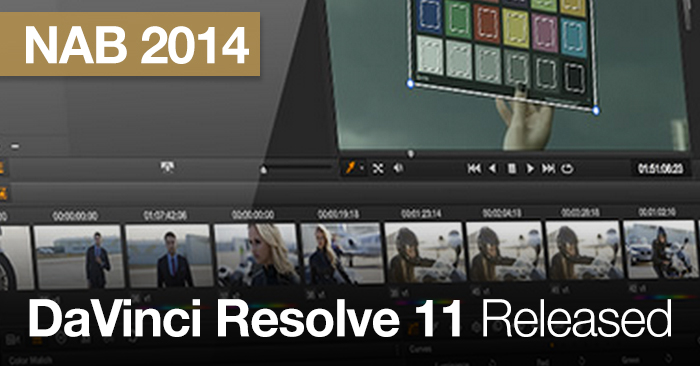 NAB 2014: DaVinci Resolve 11 Announcement
DaVinci Resolve 11 features a redesigned editing interface and over 70 new features.
DaVinci Resolve is a color grading and correction software that has long been used to create Hollywood-style color effects and has been used on films including Skyfall, Les Miserables, and Zero Dark Thirty. Now, the latest announcement by Blackmagic Design aims to make DaVinci Resolve a competitor in the video editing world.
DaVinci Resolve 11
DaVinci Resolve 11 has over 70 new features including:
Redesigned edit bay
New timeline bin
Updated editing index
3rd party open effects 
Split video and audio in and out points
JKL trimming 
Cutting a clip using the keyboard
Film transition transitions
Keyframe interpolation
Updated text editor
Camera RAW pallet is updated
Color match palette
Color chart auto grade
Group grading
Multiple language support
Multi user collaborative workflow
Notable Feature: Automatic Color Matching
The most interesting feature seems to be the automatic color matching feature. Simply place the color matching box over the box of your professional color chart and watch as DaVinci resolve creates a baseline color correction. This feature saves a lot of time for those of us who normally have to map the colors by hand.
Notable Feature: Camera Tracking and Stabilizer
DaVinci Resolve also has built-in camera tracking and image stabilization making it easier to get a cinematic look. While most major editing softwares already incorporate this feature we will be interested to see how well it works.
Pricing and Availability
Davinci Resolve comes in 3 varieties:
DaVinci Resolve Lite is FREE but missing some features
DaVinci Resolve software is $995
DaVinci Resolve with color correction surface for $29,995
You can download Resolve from Blackmagic's website.
What do you think of DaVinci Resolve 11? <
Is it going to be a real competitor in the editing world? Share in the comments below.