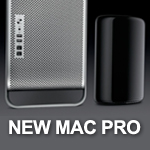 New Mac Pros Coming Later This Year
Apple releases a sneak peek of the new Mac Pros. Check out the product specs here!
Apple has announced a new Mac Pro to be released later in 2013 – 10 times faster than any hard drive you could put in a Mac Pro before.  Video editors, photographers and designers have been eagerly anticipating a new Mac Pro for several years now. When no mention of MacPros was made at the 2012 Apple Worldwide Developers Conference many pros just chalked it up to the end for this computing workhorse.
However, Apple CEO Tm Cook said something "really great" was coming for the Mac Pro user in 2013 and this is it.  At the 2013 WWDC a sneak peek announcement of the new Mac Pro was made.
Here are the product specs we know:
Unified thermal core

12-core Intel Xeon processor, 256-bit processor

Comes standard with dual GPUs

1,866MHz DDR3 memory, 

60GBps performance

Flash storage with a read rate of 1.25 GBPs

AMD FirePro graphic cards (X2), supports 4 simultaneous

 4K displays

4 USB 3 ports

6 Thunderbolt 2 ports,

 20Gbps throughput, 6 devices per port and backwards compatible

Cylindrical in shape

Assembled in the USA
Does this MacPro update have what it takes to satisfy the pro Apple users?
Share your thoughts in the comments below!  
UPDATE: Check out this video from Engadget.com: