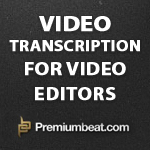 3 Video Transcription Services for Video Editors
Save time in post-production by leveraging low-cost online video transcription services.  Create quick paper edits or stringouts by having your footage transcribed FIRST!
Professional video transcription isn't what it used to be.  No longer do you have to send tapes or DVDs off to a professional transcriptionist only to wait a week or two to get a digital or paper transcription back.  If you're still working under this prehistoric method, take a look at these 3 online services that'll get your video transcribed in a matter of hours – not weeks.  Discover how having a professional transcription created for your footage or final video can speed up your post production and give added value to your final product.
Pro Video Transcription for Video Editors
Blog friends SpliceVine.com recently tipped us off to a new transcription service called VerbalInk.com (read that post here).  That got us thinking about the other options for transcription services and how many video editors may not even know they exist.  Although there are some software options that attempt to 'transcribe on the fly' (like Adobe's Speech Analysis) these software options just cannot give as accurate a result as a trained human transcriptionist.  Especially with video, different shooting situations and mic setups may not provide optimal audio, so it's going to take human intelligence to determine exactly what is being said and by whom.
Having your videos transcribed is important not just good for improving post production (creating paper edits and quickly being able to locate soundbites), but also has positive impacts on final distribution.  If you're going to post your video work online, a transcribed video will mean better search engine visibility (Google can't discern what is being talked about in video) and a better experience for an audience that prefers to follow along with a written version (training videos & tutorials especially).
Whether you're a video editor, producer or in-charge of distribution, discover the value of having your footage or final video transcribed using low cost online services.  If your time is worth money, the following options could basically be considered free!
Speechpad Video Transcription
Speechpad is the most popular online transcription service on the list.  The ability to upload or link to a variety of file types and websites make it a good choice for video editors.  For instance, you can include a link to your Vimeo or YouTube video page and the transcription will be made based on that.  Add timestamping to the video for an additional .25 cents a minute (important for making those paper edits).  We use SpeechPad for the transcription of the Premiumbeat video tutorials and have had good experience.  100% moneyback guarantee.
$1/min delivered in one week
$1.50/min delivered in 48 hours
$2/min delivered in 24 hours
Like SpeechPad, FoxTranscribe excels in the ability to upload a wide variety of file formats making it easier to get your videos in the transcription cue. The service is a bit more stripped down though, with only one pricing option: $1/min with delivery in 48 hours.  You can add a timestamp to your video for free, but it only appears in 2 minute intervals.  Like SpeechPad speakers are noted in the transcript, making it easier for interviews with more than one person.
SpeakerText specializes in video and podcast transcriptions.  Import your videos from a variety of online services including YouTube, Vimeo, Blip.TV, Brightcove, Wistia and others.  For added convenience you can add your entire library from any of these accounts making the import process even faster.
Customers that get 10+ hours of video transcribed a month will have access to SpeakerText's CaptionBox, an online plugin that highlights the words on the transcript as they are said in the video.   For video professionals that need are concerned with having the most options for their web videos, SpeakerText provides some nice additional options at the transcription cost of $2/min with 48 hour delivery.
Do you get your video footage transcribed during post production?
If so, what service do you use?  Let us know your thoughts in the comments.