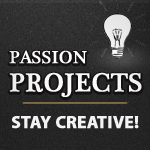 Why Passion Projects are Key to Being More Creative
Passion projects are ideal for bouncing out of a creative rut, building new skills and taking risks.  In this post we'll look at why YOU should be pursuing self directed passion projects to keep your 'creative brain' in top shape.
Working in a creative field does not always mean creative work.  In fact, the pressure from clients, managers and co-workers can often feel like quite the opposite – with you merely executing on their ideas.   Going through an ongoing cycle of projects like this can make you feel dull and creatively stagnant.
If you've found yourself just "going through the motions" it's time for a creative reality check.   One of the best ways to get the creative juices following again is with a passion project.  A project for you, by you.  No rules, no clients, no oversight.
New and Fresh
If you're a video editor try taking on a project where you have to shoot video.  If you're a wedding photographer try taking on a project shooting portraits or landscapes.
Gaining a different perspective will you more well-rounded and give you a different perspective to take back to your full-time work.  As a general rule, try to make your passion project something that you don't do for work.  It should feel new and fresh.
No Client Restrictions
Clients can bog you down with so many details and directions that you're just following their script line by line.  They may dictate every cut in a video edit or tell you exactly how your photography subject should be lit and posed.   It's to your creative detriment that they're doing all the thinking for you.
Embrace the freedom you have with your own project.  Take risks.  By exercising this part of your brain you'll be better suited to bring creative ideas to your full time work.
How am I going to find the time?
Just like you have to make time to go to the gym to stay in physical shape, you must make time for passion projects to stay in top creative shape.  You have to remember that a passion project is more than just a hobby, it's an investment in YOU.
WorkAwesome.com shares a good post about their trick for making time for passion projects: tackling it first thing in the day.  Check out a few good tips for working early, over on their site.
Keep it Attainable
Projects that seem unattainable will be abandoned.  Since you're not being held responsible to a client or customer you may be more likely to give up on a project if it is too difficult or too broad in scope.  Instead, shoot for something that can be achieved within a few months max and with the financial resources you have at your disposal.
Plus, knocking out one passion project will give you more momentum when getting into the next one.
Share Your Work
Aside from being creatively enriching, you may also want your passion project to be a learning experience.  Perhaps you tried your hand at a technical skill that you weren't previously familiar with.  By sharing the results of your work with others that are more experienced, you'll learn tips and know what better to do next time.  You should also pick up a few things that will be helpful in your own full time work (for instance if you're a video editor you may learn more about lighting, shooting, etc).
Remember, passion projects are about enrichment and growth.  You're not just keeping your creative mind active…you should aim to expand it as well!
Got tips for keeping your creativity vivid?
Got a project you'd like to share with us?
Let us know in the comments!