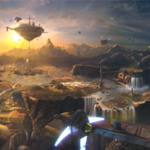 Horizon: Awesome Post-Production Breakdown Video
Discover the step-by-step process for creating a 3D futuristic world in this amazing breakdown video!
It's easy to take for granted all the work that goes into creating high quality renderings – the matteing, compositing, projection mapping, lighting.  After watching this amazing breakdown video by digitral designer Mickaël Forrett you'll likely gain a whole new appreciation.
Forrett recently completed a :30 second video called Horizon, where he gives the viewer a look into a unique futurisitc world. First, take a look at the completed project (try full screen for best viewing):
The detail that went into creating the digital environment is incredible and the corresponding breakdown video sheds some light into the post-production process.
Starting with sketches, Forrett outlined the structure of the environment.  Then using photos and matte painting, he composited organic textures and environmental features over his rough layout.  The detail builds from there, adding more and more specific elements to the shot…waterfalls, buildings, 3-D models.  The project is then given a through color correction pass to further sell the look.
Forrett appears to be a post guru, as he used a variety of industry leading post-production applications to create the shot:
Adobe Photoshop
Adobe After Effects
Autodesk Maya
Autodesk Mudbox
The Foundry Nuke
Now, take a look at the shot breakdown.  Prepare to be awed.