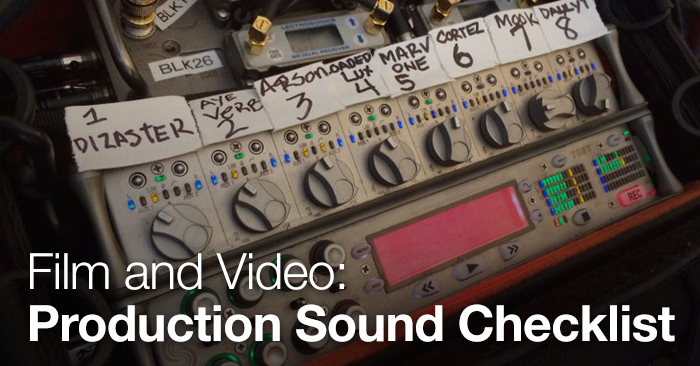 Production Sound Checklist + Top Three Digital Recorders
In film and video, the production sound mixer is responsible for obtaining the cleanest possible dialogue recording. In this post we'll take a look at a few ways this is accomplished.
The sound mixer for picture is head of the sound department and is responsible for all recording, monitoring, and leveling of the audio during production. Because the production sound mixer supervises the boom operator as well as any other audio assistants, he/she will typically make the decisions including microphone placement and the type of microphones used on-set. The sound mixer can also make critical mixing decisions by mixing down multiple audio signals in real time, based on what he/she thinks the sound designer, sound effects editors, or foley artist will need in post-production.
Many production sound mixers believe that capturing the original performances for the director, with the highest possible quality, will yield the best results for the most natural performance. ADR can save a film, but consequently it can also hurt it. Since ADR often doesn't begin until months after filming has ceased (minus the additional talent that was originally present in the scene) comic timing, subtle cues and mood changes are much more difficult to duplicate. If you plan to utilize ADR, check out our previous post: ADR: Automatic Dialogue Replacement Tips and Tricks.
Most production sound mixers will stress the importance of using the same style of recording throughout the film. It is much easier to engage your audience – and  keep the audience engaged – with consistent dialogue tracks.
The overall goal of the sound department is making the audience forget about the reality of the movie for just an hour or two; keeping the suspended belief alive. If the mixing style suddenly becomes inconsistent, your audience may be jolted back into reality. Maintaining a consistent style is a critical objective and the duty of the sound mixer is to maintain consistency regardless of the location.
Production Sound Mixer Checklist
Before production begins, there are a number of things the sound mixer needs to confirm with the director and other personnel in the production. Let's look at a complete checklist for the production sound mixer…
Pre-production:
Review and get familiar with the script. Note any critical dialogue areas.
Meet with the director; discuss any conceptual visions/technical requirements.
Location Scouting – Visit all locations around the same time of day you will be filming for a more accurate assessment of NAT sound. Determine all technical requirements for recording dialogue.
Asses and order any necessary equipment. Run full equipment tests to insure everything is operational.
Assemble your department. Hire enough personnel including boom operator and utility.
Ensure all equipment is properly loaded into transportation for safe arrival.
Production:
Supervise and assist with equipment load-out and set-up.
Decide the appropriate microphone to be used for talent. Wireless? Boom? Planted? Or a combination of all three?
Eliminate any noisy appliances/objects.
Direct the boom operator and utility sound operator. Instruct and supervise.
Record, monitor, level, and mix multiple audio channels coming from the production.
Provide monitor mixes for the producers, director, and script supervisor.
Log all audio takes and notate quality of takes for the dialogue editor.
Insure the director is aware of any quality concerns with dialogue takes.
Insure all audio is backed-up on external media
Deliver raw audio files on appropriate media
Ensure all equipment is properly loaded into transportation for safe departure.
Production sound mixer Nick Allen has some great suggestions on sound mixing for pictures. Check out the video below by Soundworks Collection:
Three Pro Level Audio Recorders
1. Nagra VI Eight-Channel Portable Digital Audio Recorder
A tried and true standard of cinema sound, Nagra's VI eight-channel digital audio recorder exceeds every professional standard to deliver pristine audio. Featuring 4 mic inputs, 2 line and 2 mix inputs as well as 2 AES inputs, the Nagra VI records up to 192 kHz at 24-bit depth. In conjunction with a flash card option, a 120 GB internal hard drive is available for media storage options. With the SMPTE/EBU time code system, the Nagra VI is can be synced to any camera with timecode including 23.976 for HD formats. The Nagra VI retails at $9,900.
2. Sound Devices 788T 8 Channel Portable HD Recorder
Sound Devices is a well respected company producing top-notch location audio products to audio professionals. The Sound Devices 788T 8 channel HD recorder provides 8 line level and microphone inputs as 4 XLR and 4 TA3-male connections. With 6 channels of balanced AES3 output for integration of AES3 mixers and digital cameras. The 788T retails at $6,395.
3. Sound Devices 744T 4 Channel Audio Recorder with Time Code
The Sound Devices 744T is much like it's older sibling the 788T, with less channels. A more affordable option, the 788T retails at $4,195.
Got tips and tricks for production sound mixer techniques?
Share in the comments below.