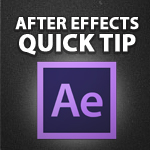 Quick Tip: Save Time on Approval Renders in After Effects CC
Use After Effects CC's new "Add to Adobe Media Encoder Queue" to save time and space on approvals and masters.
As a full time video editor, I often send my clients links to webpages where they can watch and review approvals. I do a fair amount of work in After Effects, and with previous AE versions I had to export ProRes versions, then run the ProRes file through Media Encoder to get the preferred web sized H.264 video file. The ProRes files stack-up pretty quick with multiple revisions, and so does the amount of hard drive space used up. Even worse, you have to wait for two encodes to finish, which wastes time.
With the new "Add to Adobe Media Encoder Queue" in After Effects CC…
…you can skip ProRes (or whatever intermediate codec you're working with).  Render directly to H.264 from After Effects for your approvals, then when you get the final go-ahead, you can render your archival master and your deliverables at the same time by adding files to the Media Encoder queue from within AE.
Save time, hard drive space and keep working in After Effects while Media Encoder does it's thing!