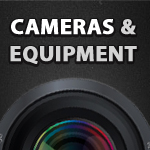 Quick Tip: Super Simple Audio Setup
Going out to shoot on your own? Need to travel light? The following audio setup is perfect for one-man-band video production.
In the following quick tip video, one of our favorite photo/video content creators, Knoptop, shares his trick for getting clear sounding audio when shooting on his own. For a dramatic improvement over audio simply captured 'in camera', try using an external recorder with a lavalier mic. On-board camera mics are typically pretty low quality and pick up unfocused sound (lots of ambient noise).
Knoptop's recipe for success is a Zoom H1 recorder (an industry favorite) and an Azden lavalier microphone. Check out the video tutorial below to see how he uses this setup for his video shoots – and a few other tricks for better sounding success.  Thanks for sharing, Knoptop!