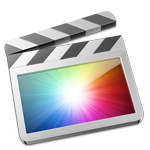 Quickly Export Still Images from Final Cut Pro X En Masse
A new FREE app supercharges still image exports out of Final Cut Pro X.
There are many instances when you may need to export out a group of still images from your video editing timeline…maybe you're pulling reference shots for a future video shoot, your clients want them for promotional use or you want to do some analog-style scene mapping.
Previously with Final Cut Pro X this process could be cumbersome and time consuming if you were needing a big batch of stills (you'd have to pick each still frame and export it out individually).
However a free app from Santiago, Chile based Orangutan Productions now makes exporting out a big group of still images from FCPX a breeze.
Add a marker on your video timeline to each frame you'd like a still image of. You can add as many markers as you'd like.
Export an XML from FCPX and load it into fcpxImageExporter. Done!
Many thanks to fcp.co for the tip on this super handy app…and to Orangutan Productions for making image export out of FCPX pain-free.
See the app in action below: