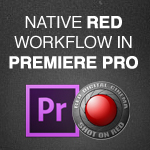 RED Workflow in Adobe Premiere Pro
If you're looking to optimize your RED workflow in Premiere Pro check out this informative video tutorial.  Discover the best ways to work natively with RED .R3D files in Premiere!
RED Digital Cinema continues to stay a competitive force in the pro camera market, with the addition of new cams and a major price drop on their models.  Over the last few year many post-production operations have made the switch over to Adobe Premiere Pro.  So, it's likely then that more RED footage is being cut in Premiere than ever before.
To address this, Adobe has included some features in Premiere Pro aimed directly at working with native RED footage.  In the following video tutorial (put out by RED Digital) a RED workflow in Premiere Pro is laid out in a concise but informative way.  Topics addressed include:
Using the Media Browser to locate and scrub through .R3D files
Adjusting RED RAW metadata files
Saving RED look presets
Using a RED Rocket for better performance
Modifying the look of footage and modifying metadata in REDCINE-X and having those changes reflected back in Premiere Pro
Looking to tackle a RED native workflow in Final Cut Pro X?  See our previous post here.
For any Premiere Pro video editor or RED shooter, this quick tutorial on RED workflows in Premiere Pro is a worthwhile watch: