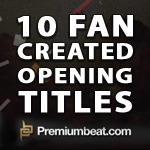 Inspiration! 10 Reimagined TV & Film Opening Titles
We've rounded up some of the best fan generated tv and film title sequences!  Check out the reimagined opens of these popular programs.
Some talented fans have decided to create their own unique take on the opening sequences for the following films and tv shows.  These re-imagined title sequences utilize a variety of production and post techniques to extradorinary effect.  Although they are fan generated show opens, the results are nothing short of professional!
The Walking Dead
by Daniel Kanemoto
Illustrations were animated in After Effects to create a unique 3D effect in this reimagined TV open for AMC's popular zombie series.
20,000 Leagues Under the Sea
by Maximov
Beautiful typography and clean graphic design create a minimalist spec title sequence with a vintage style.
X-Men: First Class
by Joe D! 
Retro reimagined title sequence for X-Men.  1960's Saul Bass style illustration gets a grungy film treatment.  Even the music is fitting!
Breaking Bad
by Virtuosoda
The 'scientific' theme of the show gets a clean treatment in this reimagined TV opener.  Utilizes both video and CG elements to impressive effect.
Into the Wild
by jurjen versteeg
Excellent pop-up animation creates a unique visual style.  This clever title sequence excellently represents the theme of the film.
Back to the Future
by Daniel Zhang
Quick re-imagined title sequence with retro illustration style.  Spot completed using Adobe After Effects, Flash, Illustrator and Photoshop.
Mary Poppins
by Andrew Conlon
Excellent title sequence utilizing a cutout graphic style.  Great textures and layering effects!
Dexter
by FashionBuddha
If Dexter were created in the 1960's the title sequence may look like this.  A Saul Bass inspired retro design!
Black Swan
by You Jin Kim
An anxiety inducing fan generated title sequence for Black Swan.  Utilizes interesting close ups and ink effects, this re-imagined open incorporates the same apprehension and guttural feeling of the film.
Mad Men
by Paul Rogers
A lighthearted retro take on the Mad Men opening sequence.  Upbeat music, a playful animation style and dynamic transitions make the project clean and cohesive.