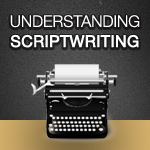 Improve Your Editing – Understanding Scriptwriting
As an editor, the key to shaping the story hidden amid the footage is to understand the fundamentals of scriptwriting.
The two tweets below got me inspired to put together a post on scriptwriting and storytelling for editors and creatives alike.  If you're like me and keen to beef up your story structure skills, these scriptwriting tips and videos should help you improve your craft. 
@dynamitedietz @strypesinpost @post_magazine Editors NEED to be well versed in storytelling.You can learn any tool.#postchat

— walter biscardi (@walterbiscardi) January 31, 2013
Jeff Ford, editor on The Avengers, mentions several things that he feels editors should learn – sound, acting and scriptwriting – in the course of this interview for Avid.  It's well worth watching.
"If you don't know screenwriting, you cannot be an editor. Period." Jeff Ford, Editor #Avengers youtu.be/xsPsFZDHW9E #Avid #filmmaking #post — Avid Media Composer (@MediaComposer) January 31, 2013 
Follow Basic Scriptwriting Formulas
The basics sound pretty basic, but if you don't follow these simple things your story will be all over the place and impossible for the audience to follow.
You've got to have a beginning, a middle and an end.  Set up, develop and pay off. If you've got problems with your pay off at the end of your story, go back and check that everything that precedes it is lining up to make that point. If you're arranging an interview as the basis for your story structure and you've got a clip that conveys the information of a beginning piece but tonally feels like an ending, its definitely best to go with how it will feel…or leave it out all together.
This talk on the Power of Storytelling given by professional storyteller Jay O'Callahan is one of my absolute favorites from any 99percent conference because for 17 and a half minutes you get to see a master craftsman at work:
Screenwriting: Simplify to Clarify
Many stories actually contain way too much information or take too long to make their point. When was the last time you heard anyone complaining that a film was too short?  Being able to 'murder your darlings' and cut out your favourite scenes, moments or shots is crucial to being able to tell a story well.
As editors we've got to find ways to convey the same story beats but in as concise a way as possible. Can you eliminate one half of the dialogue and still have a great scene? Can you take a whole scene out because its not clear that scenes purpose.  Could another scene already have made that point?
Ira Glass has a great 4 part video series on storytelling that is well worth checking out. This nicely put together typography piece will give you a decent flavour of what's in store:
Step Back: Big Picture Scriptwriting
Film editor Walter Murch uses a system of cards mapping out the story structure, based on the screenplay (very much like screenwriters do when writing the script in the first place) to help him visualize what's going on in the film.
The above cards cards are from Cold Mountain, for which Walter was nominated for an Oscar:
"Blue with a yellow background means Inman (Jude Law) is in a scene; plain blue means Inman is not in that scene. A lot of blue cards in a row means not much Inman – which makes me wonder 'is that a good idea?' A triangle indicates I feel it is a pivot scene. The size of card equals the approximate length of a scene."
Being able to step back and see the story as a whole is crucial to seeing what's working well and what's not adding to the overall experience. Sometimes a great scene is hurting the rest of film.
Screening your film with people who don't know anything about it is also a good way to a) see it with fresh eyes and b) discover if it actually makes sense. A huge part of successful storytelling and screenwriting is mapping out the emotional arc and narrative, while weaving those together.  Sometimes withholding information from the audience or a character can dramatically alter those dynamics.
Have screenwriting and scriptwriting tips to share?
Let us know in the comments below!