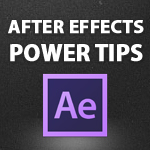 Create Dynamic Photo Slideshows in After Effects
Want to give your slideshows and presentations extra pop?  Check out this tutorial for creating a clean, modern photo slideshow in After Effects!
Just say "no" to boring slideshows!  With a little time and some technical know-how you can create dynamic photo slideshows in After Effects.
In the following video tutorial, Jimmy with InfuzedMedia shares his process for creating an engaging slideshow in AE.  This is not an After Effects template, but rather a ground-up, step-by-step process of assembling a moving slideshow in an After Effects project.
The modern photo slideshow in this example can be fully customized to suit your needs, also making it a great option for individuals seeking to create an engaging video presentation.  Highlights of the tutorial include:
Using an After Effects virtual camera to animate movement via keyframing
Importing photos and animating photo motion
Changing interpolation of keyframes for smooth playback
Adding motion blur to text and graphic elements
Applying masks to shape elements to simulate motion
Ditch iPhoto!  This is a versatile and powerful solution for creating professional photo slideshows in After Effects!  Tons of great info…even for the After Effects beginner.  Thanks for sharing, Jimmy!