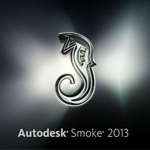 Informative Smoke 2013 Video Demo
Now that Autodesk has officially released the commercial version of Smoke 2013, you may be thinking about using it as your primary or finishing video editing application.  Discover the key features of the new Smoke 2013 in this live video demo.
In the summer of 2012, Smoke 2013 was given a sneak preview at the annual Creative Pro User Group Supermeet in Amsterdam.  On hand where the lead Autodesk team members behind the new video editing application, Technical Marketing Manager Ken La Rue and Smoke Product Evangelist Marc-André Ferguson.  In this demonstration they tackled the new features and tools within Smoke 2013.  Topics covered included "green screen, keying, tracking, color correction and of course, editing."
The demonstration was shot and recently uploaded to Vimeo by producer/director Rick Young of MovieMachine.tv.  Check it out below.
What do you think of the features in Smoke 2013?
Are you considering switching to it for video editing?
Share your thoughts/experiences in the comments below!