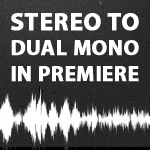 Splitting Stereo Audio into Dual Mono in Premiere Pro
In this Adobe Premiere Pro tutorial, you'll discover a handy trick for splitting two audio inputs that were married as a stereo pair in camera.
If you're recording two audio inputs to camera they may come into Premiere Pro as a single stereo track (such as 2 separate audio mics for your talent).  This can be entirely frustrating.  You need to break these married audio tracks into dual mono, but how?
In this post, we'll tackle how to convert an audio file into dual mono after it has already been imported into your Premiere Pro project.  Also, you'll learn how to make it a default behavior to bring all stereo tracks in as dual mono in Premiere.
However, a word of caution:  because of the way Premiere Pro is set up, once you make a change to your preferences or a clip in your project panel, generally speaking it won't update in your timeline. So, if you already have clips in your timeline and you want to convert them to dual mono this isn't the way to do it!  For that you will probably have to use a separate program such as Adobe Audition (a more time consuming process).
Splitting Stereo into Dual Mono
First step – you need to right click on the clip in the PROJECT panel.
This will bring you to a menu.  As shown above you select Modify>Audio Channels.
This brings up the Modify Clip box.  Go to the preset tab and change it from 'Use File' to 'Mono'.
Once you've selected this you will see that the output mapping for the 2 audio channels has changed to the following.  The Channel Format is now Mono and the stereo audio is now dual mono.
I get the following warning dialogue box if I have already used the clip in a sequence in my project:
This tells us that clips already in the timeline will not be changed.  This may seem annoying, but in reality the fact that clips are not updated means that you will not cause yourself potential problems every time you make a modification.  This could potentially screw up previously made edits in your timeline.
As you can see, once the clip has been re-mapped in the Project Panel and added to a new sequence the audio is mapped as dual mono:
Dual Mono as Default Behavior in Premiere
One last question I also get asked is if there is a way to make this the default behaviour in Premiere Pro.  In other words, can you make it so that every time you bring in a clip with stereo audio into Premiere it will be mapped to dual mono by default without having to do the process above?
Well, the answer is 'yes' and it's done through your preferences.
Select your preference as follows:
PC = Edit>Preferences>Audio
Mac = Premiere Pro>Preferences>Audio
Then, in the middle of the panel you will fine the 'Default Audio Tracks' section and simply drop down the options beside 'Stereo Media' and change it from 'Use File' to 'Mono'.
Preferences for Premiere audio files
Now, the default behavior is for Premiere Pro to treat stereo clips as dual mono.  Save yourself time (and headaches) with this handy Premiere Pro feature.