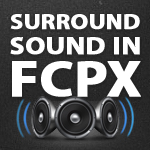 Surround Sound Mixing in FCPX
Discover how to create an engaging 5.1 surround sound mix within Final Cut Pro X!
Up the audience engagement with your film or video project with a dynamic a 5.1 surround sound mix.  You now have all the tools to do a surround sound mix in Final Cut Pro X, reducing the need to send your project to a third party audio editing application.  In the following video tutorial, video editor and filmmaker Dan Allen once again shares his Final Cut Pro X expertise…this time addressing the surround sound tools in FCPX.
The highlight of the surround tools in FCPX is the surround sound panel – a graphic display of how the sound is distributed between the different speakers in the 5.1 setup:
Dan discusses how to use these FCPX surround sound tools for a natural and dynamic sounding mix.  In addition, you'll get insight into how the mix can effect the audiences engagement.  Discover how to manipulate dialogue and sound effects in a surround sound mix to work with your edit, instead of against it.  Tons of great info for working with surround sound in FCPX – 15 minutes well spent:
We previously featured Dan Allen's tutorial on creating an edgy title effect in FCPX.  See that video tutorial here.