Here's how you can use an Atomos Ninja V to "hack" a Canon R5 for nearly unlimited 4K video recording. Watch the tutorial for these easy-to-follow steps.
At NAB 2018, Atomos unveiled the next great monitor/recorder, while saving space in your camera bag. Here are the details.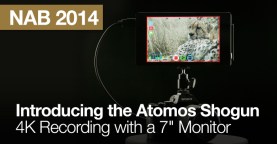 The Atomos Shogun brings 4K RAW recording to a sleek, easy-to-use 7″ HD monitor.