Posts Tagged 'Panasonic Lumix GH4'
Are you on cusp of launching your own production company? Looking for a camera to get started? Well, let's check out your best options.
Enter to win a Lumix GH4, lenses, $500 music credit, microphone, Zoom audio recorder, LCD monitor, camera slider & more!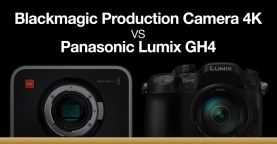 Check out this impressive test footage from both the Blackmagic 4K Cinema Camera and Panasonic Lumix GH4 – exciting products for indie filmmakers.