Posts Tagged 'Pocket Camera'
From built-in ND filters to an all-new LED tilt screen, here's what we know about Blackmagick's upcoming Pocket 6k Pro.
Info is trickling out at NAB 2015 about the Blackmagic Micro Cinema Camera built specifically for drones.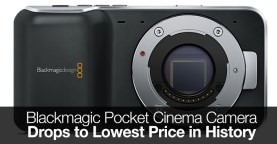 With a low price tag of $495 the Blackmagic Pocket Camera has dropped to it's lowest price in history.