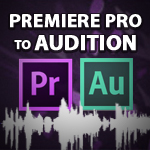 Utilize Adobe's powerful Audition audio application for finishing your mixes from Premiere Pro. In this post we show the benefit of using Audition's robust tools over the …
Discover 3 must-know tricks for best using sound effects in your film or video project! Effectively reinforce on-screen action using these sound effects tips.
Add spooky atmosphere to your Halloween videos and indie horror flicks with these new royalty free horror sound effects!