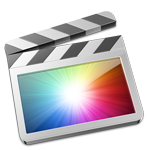 Create an Edgy Title Effect in Final Cut Pro X
In this video tutorial you'll discover how to add style to your text in FCPX by creating a custom title effect!
Filmmaker Dan Allen shares his trick for giving your text a dynamic textured treatment in Final Cut Pro X.  Dan applies a stone texture to his title and splits it in half for a cool motion effect.  This Final Cut Pro X video tutorial covers:
Embedding video or still images inside text using the Luma Mask blending mode in FCPX
Cropping text and adding movement to make your text more dynamic
Keyframe motion and effects
Although this tutorial is for a very specific look, keyframing and using blend modes is essential knowledge for any FCPX editor.  Use this tutorial as a jumping off point for creating your own unique title effects.