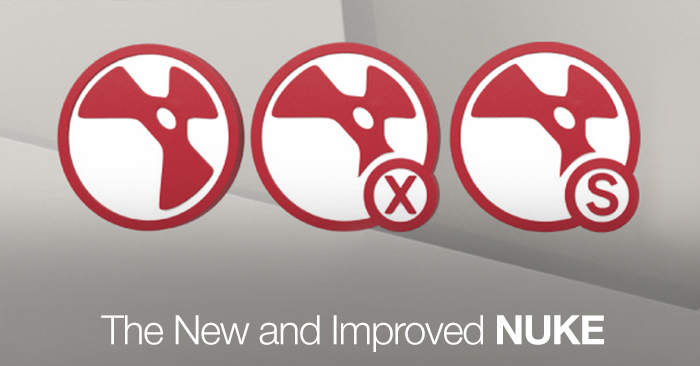 The New and Improved NUKE
The Foundry introduces NUKE 9 and the improvements are impressive.

NUKE Project Manager Jon Wadelton and Marketing Manager Philippa Carroll Discuss the new NUKE Range
NUKE 9 is nearly here…and with it comes a host of new improvements.
NUKE 9 includes updates and added exclusive functions to the NUKE Range which includes NUKE, NUKEX and NUKE Studio. The Foundry have crafted a software range that gives impressive toolsets for every type of project from film visual effects to advertising and marketing. NUKE's workflow is node-based instead of layer-based and is catered for individual artists as well as collaborative artist teams. The Foundry highlighted some of the enhancements at SIGGRAPH 2014 and you can see a rundown of that on The Foundry's Website.
Below we've compiled a quick list of improvements and updates to the NUKE Range with our impressions on the new Exclusive Functions in NUKE Studio.
NUKE Studio Exclusive Functions:
Online Editing Tool Kit: This is a tool kit that will garner a lot of use. With the ability to edit on set or in a conference room with a client this tool kit will aid in stream-lining artist projects.
Real-Time Effects in the Time-Line: By allowing artist to add real-time effects into the time-line NUKE allows not only the artist but the client to see the high-end project output immediately.
Fluid End-to-End Workflow: As many know in the VFX world turn-around is key, and the end-to-end workflow looks like it will allow artist the ability to work from start to finish in one singular application, which will greatly benefit artists in turning out a project.
Collaborative Control: With the ability to collaborate between artists the use of the hub is just another added bonus for artists to turn out a project successfully in the quick turnaround time usually needed.
Real-Time 4K Playback: Being able to playback projects in real-time in 4K for clients during a meeting or on set is really impressive.
Built-in Rendering: It will be very interesting to see this feature in action, as well as to see the requirements to run this feature smoothly.
Additional Updates to the NUKE Range:
Planar Tracker
Kronos, Vector Generator and Motion Blur 2
Native Flipbook Tool
EXR Reader Updates
Particle System Updates
Scanline Renderer Updates
Enchanced 2D Support (Support for MXF, AVCI and DV image files)
GPU Acceleration Added
With all of the improvements and enhancements to NUKE it appears that The Foundry have developed an application set that will allow artists to collaborate and streamline their workflows for increased productivity in a demanding world of motion graphics and visual effects. As Jon Wadelton, Project Manager of NUKE, is quoted as saying on The Foundry website "This release, our most ambitious to date, addresses input from artists working in ever-evolving, increasingly demanding environments."
Pricing and Payment Options
The Foundry is now going to be offering new flexible payment options for new NUKE costumers. This is intended as a way to aid startups and freelance artist the opportunity to be introduced to the NUKE Range of software.
NUKE: $4213 or $351.08 a month for 12 months
NUKEX: $7920 or $660 a month for 12 months
NUKE Studio: $9240 or $770 a month for 12 months
Production Collective: $9900 or $825 a month for 12 months
Production Collective (Educational Version): $250.00
A Non-Commercial Version of NUKE, NUKEX & NUKE STUDIO will be available for FREE
**Educational Version of Production Collective is subject to verification and approval by The Foundry, but the collective is fully licensed for commercial use. The FREE non-commercial version of NUKE, NUKEX & NUKE Studio will be restricted and available on a 30-day rolling license, but will NOT be water-marked.
Look for NUKE 9 open betas to begin releasing in the coming weeks with the full release to come later in the year. You can register for information on NUKE 9 through The Foundry's website.
Have thoughts on the new NUKE 9 improvements and release news? Let us know in the comments below.