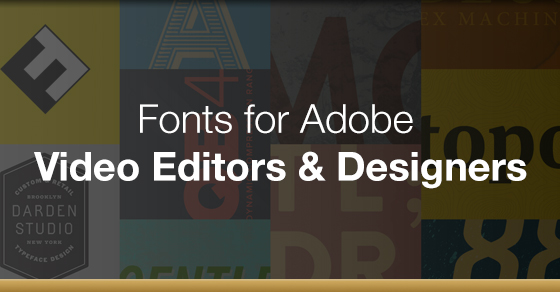 TypeKit: Fonts for Adobe Video Editors and Designers
Editors/motion designers need access to good fonts just as print/web designers do. Now get access to high quality fonts for all your Adobe based projects.
Building a quality font collection can get very expensive and free fonts vary in their quality (for instance, many fonts need more kerning).
Luckily, Adobe is now offering Creative Cloud Members access to great fonts via TypeKit.
Typekit for Creative Cloud
TypeKit gives you the ability to access hundreds of fonts that are synced locally to your computer. Licensing wise, you can use the fonts as you would a system font. Read the specifics of licensing here.
Browsing Fonts and Lists
You access Typekit from within Creative Cloud. Clicking on "Browse Fonts" takes you to the TypeKit website.
Here you can sort fonts by featured, newest and name. You can further filter fonts based on:
Classification (Serif, Sans Serif)
Available For (Desktop or Web)
Recommended For
Font Properties
Language
Videos will want to select Desktop Use, as Web Use fonts are specifically for users designing websites.
If you aren't sure which fonts to use, you can also Browse Lists created by the Typekit team. Select a list to get a description of the fonts and click the heart beside any font to add it to your favorites.
Manage Fonts
Synched Fonts lets you manage the fonts on your computer, removing those that are no longer desired. To access this tab in your account settings simply click on your name in the top right corner of the TypeKit page.
You also access your account information in Manage Fonts. Though you have access to hundreds of fonts, be aware that you can only sync 100 desktop fonts at one time with a Creative Cloud membership. They offer more expensive plans if you need access to more fonts.
Get more info on TypeKit here.
Are you using TypeKit with your Adobe products?
Share your thoughts and suggestions in the comments below!