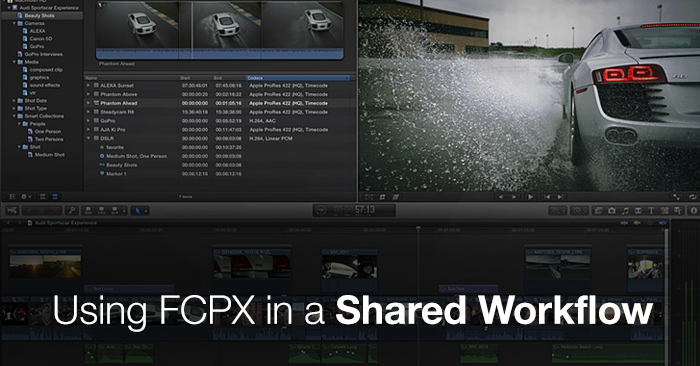 Using FCPX in a Shared Workflow
Make the most of FCPX in a collaborative workflow with these useful guides to shared editing.
If you've not yet seen this behind the scenes making of video from That Studio, you'll soon come to realize that global shared workflows are becoming more and more feasible, even for small teams of collaborative creators.
Although this video is all about the Adobe Creative Cloud suite of applications, there are plenty of ways to use Final Cut Pro 10.1 in a shared workflow.
FCPX Collaborative Workflow
Author and trainer Larry Jordan, is always an indispensable source of insight, especially on all things Final Cut X, and in this case you won't be disappointed. In this excellent step by step guide, Larry walks you through how to correctly import and manage your media for a smooth collaborative workflow experience. Most helpfully he also details some common sharing scenarios, from two editors working on the same project, sharing networked media to having a producer create a rough cut remotely, which are a must read.
Final Cut Pro X is designed with collaboration in mind, but it requires thinking differently about how and where to store your media. Libraries reduce the need for cloning drives, instead we simply need to copy files from one drive to the other. And the ability to move projects by containing them within libraries makes sure that all essential data transfers from one editor to another.
If you are looking for a much more in-depth guide to using FCPX as the central point in a collaborative workflow then this free 57 page primer from the London based creative consultancy 10dot1, is probably the best you could possibly hope for. It is an outstanding paper covering all aspects of sharing, media management, and file backup in great detail.
The paper covers four different ways in which you can collaborate and then goes on to elaborate on a further six different sharing scenarios, including XSAN storage, NAS storage and a 4k film workflow. You can directly download the free FCPX collaborative guide here.
More Posts on FCPX Workflows
If all this talk of FCPX workflows has made you hungry for more information on the core topics of media management, file back up and organizational workflows, which all underpin getting any creative work done effectively, then you might want to check out some of the other rich resources right here on The Beat.
I also recently collected together a lot of great FCPX workflow tips, tricks and tutorials over on my blog, which might also be worth a look. Check out this recent FCPX Workflow Round Up. The post includes mastering metadata for an efficient feature film workflow, round tripping to DaVinci Resolve 10 and much much more.